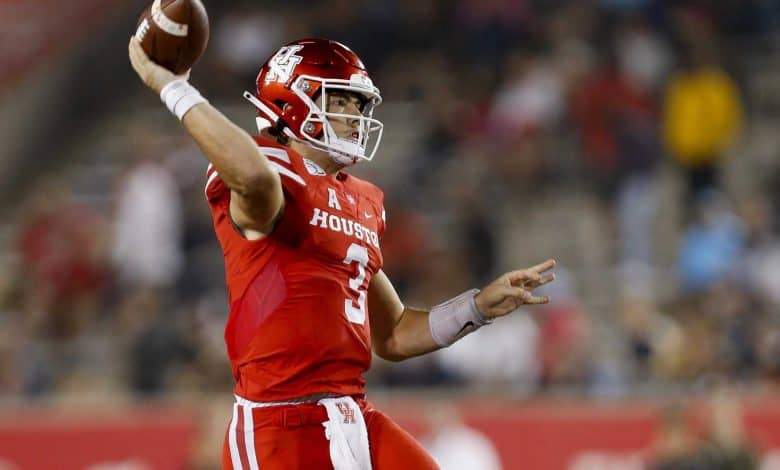 Friday night's Houston at Tulsa betting line is kind of a strange one, with the 3-1 Cougars getting +3.5 points in a visit to the 1-3 Golden Hurricane. Granted both of these teams records are built on the quality of competition, with UH being a 20 point favorite the last two weeks and Tulsa having already played Oklahoma State and Ohio State.
Tulsa is at home though and has one of the better passing attacks in the nation (302.0 yards/game). The Cougars defense on the other hand has one of the best passes defenses in the country, even though some of their competition so far was suspect. A slight 56% of the public is still backing Houston on the road in this one,
Cougars Defense Gets a Test
It's definitely intimidating on paper to see the Cougars come into this matchup with the #5 overall defense in the country (247.5 yards/game) and ranking 3rd in allowing just 116 yards/game through the air. UH allowed just 86 yards passing to Rice, 49 to Grambling State, and 98 to Navy. Obviously those aren't high powered offenses though, and Texas Tech QB Tyler Shough did go 17/24 for 231 yards in a 38-21 Red Raiders win in the season opener.
The reason pass defense matters for the Cougars coming into the Tulsa at Houston matchup is because Golden Hurricane QB Davis Brin has thrown for 783 yards and 5 TD the past two weeks. One of those performances came against Ohio State too, so the competition has been there.
Tulsa is probably going to be able to move the ball on Friday night, so can Houston stay toe to toe? The Cougars have a couple of 44+ point outputs over their last three games, but against Rice and Grambling State. QB Clayton Tune has had an inconsistent season, completing 22 of 30 passes last week in the win over Rice but having 4 INT in the opener against Texas Tech.
Tulsa Ready to Get Back on Track
The Golden Hurricane were 6-2 last season, getting up to #24 in the country before losing to Mississippi State in the Armed Forces Bowl. Obviously things are off to a bit of a slow start in 2021 with their 1-3 record, but they've also also been double-digit underdogs in road games at Ohio State and Oklahoma State.
The real stinger for Tulsa this season was the 19-17 home loss to UC-Davis in the season opener as -21.5 favorites. That horrible loss is one of the major reasons a Houston road win on Friday night wouldn't be a complete shocker. Brin threw 2 INT in the loss to UC-Davis, and also has three more in the past two weeks to go along with his 5 TD passes.
Tulsa's defense has to benefit from playing Ohio State a couple weeks ago even though they lost 41-20. The Buckeyes ran for 323 yards in that game, but Houston's leading rusher Alton McGaskill only has one game over 75 yards this season.
Week 5 Houston at Tulsa Free Pick
This game is a tough one to call since Houston's superior pass defense has been built mostly upon playing teams that don't throw the ball. Brin has had his share of turnover problems this year for Tulsa, but has made of for those with two huge passing performances the last two games. Home team it is.
Tulsa 34 – Houston 30
Free Pick: Tulsa -3.5