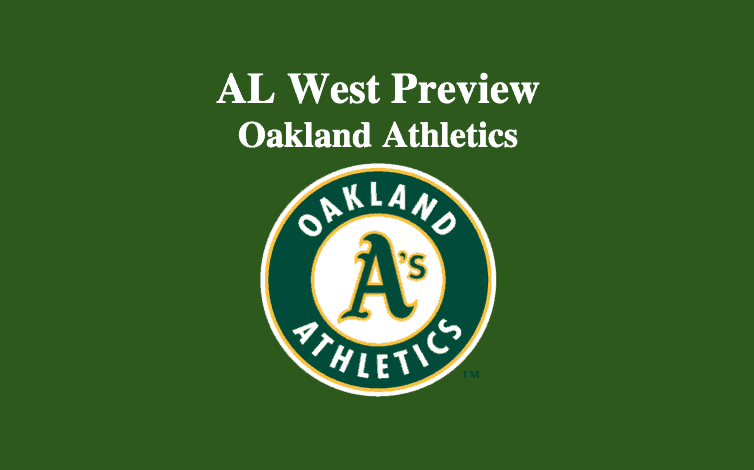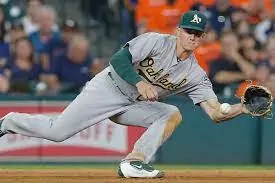 Our AL Oakland Athletics preview 2021 acknowledges that this team will be competitive in the division. Last season, the A's went 36-24 with last season's totals being adjusted to a 162-game season of 97-55. Each of the previous two seasons, Oakland won 97 games. Once again in 2021, this amazingly consistent team will be in the mix.
However, although they will contend, we don't expect them to be as good as they were each of the last three seasons. This is despite the fact that the Athletics will be without two of their most important contributors, shortstop Marcus Semien and closer Liam Hendriks.
AL Oakland Athletics Preview 2021 – Pitching
The A's had one of the better pitching staffs in the American League. They were fourth in ERA (3.77) and WHIP (1.24) and seventh in OBA (.240). They gave up the third-fewest homers in the league (69). They tied for fifth in saves (17). However, Oakland was one of six teams last season that did not record a quality start, and they were one of five clubs that did not have a shutout.
Oakland Rotation
Starter Frankie Montas, who was 3-5 last season, utilizes an effective 96mpg sinker, 78mph slider, and 96mph four-seam fastball. At some points, he'll use an 87mph splitter. Over his 11 starts, Montas recorded an ERA of 5.60. In 53 IP, he had a 1.51 WHIP and 60 SO. In what is his sixth MLB season, it's hoped that Montas can finally enjoy a double-digit win season. Jesus Luzardo returns for his third MLB season with the A's. In nine starts last year, we was 3-2 with a 4.12 ERA and 1.27 WHIP. Luzardo, a lefty, relies on his tough-to-hit sinker (96mph) and solid four-seam fastball (96mph). His 88mph change can keep batters off balance.
Three through Five
The final three starts look to be Chris Bassitt , Sean Manaea , and Mike Fiers. Last season, Bassitt, a righty, proved to be the team's most effective starter. He went 5-2 over 11 starts, posting a 2.29 ERA and 1.16 WHIP. He uses two main pitches, a 93mph sinker and 88mph cutter. He also likes to utilize his fastball, curve, and change. Manaea, who's in his sixth MLB season, all with Oakland, was 4-3 over 11 starts with a 1.20 WHIP and 4.50 ERA. His top-two pitches include a four-seam fastball (91mph) and Change (83mph). Additionally, he mixes in a 79mph slider and 77 mph curve. Fiers, who's primary pitches include an 85mph cutter, 88mph fastball, and 88mph sinker, is a 12-year vet starting his fourth season with Oakland. Last year, he was 6-3 with an ERA of 4.58 and WHIP of 1.37.
Relief
In his two seasons with Oakland, 12-year MBL vet Jake Diekman has recorded 26 holds. When his four-seam fastball and slider are working, the lefty is effective. Last season, in 24 appearances, he recorded an ERA of 0.42 and WHIP of 0.94. His WAR came in at +1.4. In addition to Diekman, two righties, J.B. Wendelken and Lou Trivino, should provide substantial innings. Wendelken was solid last season, while Trivino ran into some rough spots. However, he did show progress last season, and more is expected from him 2021.
Our Oakland Athletics preview 2021 observes that the team will go with veteran closer Trevor Rosenthal. Rosenthal spent part of last season with the Royals and the other part with the Padres. In 2014 and 2015 with St. Louis, he recorded 45 and 48 saves respectively. His ERA over those two seasons was 1.30. Last year, Rosenthal recorded 11 saves and an ERA of over 3.00. Despite the ERA, he notched just one blown save and was fairly effective. If he can find his stuff, including his 98mph four-seamer and 87mph slider, he'll help keep this team in the game during the last inning.
Oakland Athletics Preview 2021 – Everyday Players
When it came to hitting last season, the A's struggled. The team batting average totaled .225 (14th). The team's OBP of .322 ranked seventh, while their SLG% of .396 came in 12th. Their OPS of .718 was 10th in the AL. Oakland hit 71 homers (9th) and posted 264 RBI (8th). All-in-all, the team performed below average at the plate.
The projected batting order has centerfielder Ramon Laureano leading off with left fielder Mark Canha second and third baseman Matt Chapman third. First baseman Matt Olson is the fourth man at the plate. Catcher Sean Murphy hits fifth and DH Mitch Moreland is sixth. The final three coming up to the plate are right fielder Stephen Piscotty, shortstop Elvis Andrus, and second baseman Tony Kemp.
Oakland – Infield and DH
Our Oakland Athletics preview 2021 notes that this team will have Elvis Andrus, who comes to the team after a dozen seasons with the Rangers, at short and Tony Kemp, who returns for his second season with the A's, at second base. Andrus, who played just 29 games last season with Texas, hit just .197. Capable of batting .280-plus, the A's hope that Andrus can pump up his average while contributing about 30 steals. Over six seasons with three different ball clubs, Kemp, who bats from the left, brings a .235 lifetime batting average to the plate.
Matt Chapman, who missed the second-half of last season due to injuries, has the potential to hit 35-plus homers. He's healthy now and should be able to launch the ball over the fence once again. Olson, who had an off-season in 2020, is also capable of 35-plus round trippers. Both corners feature players with keen defensive skills. Catcher Sean Murphy, who has a solid connection with the pitching staff and a strong arm, also has power at the plate. Last season in 22 games with Boston, Morland, a 12-year vet, hit .328 with eight homers. He them played 20 games with the Padres, hitting .203 with two homeruns. It's hoped that the Boston Moreland shows up at the plate this season.
Outfield
Ramon Laureano and Mark Canha both have power. Neither had a very productive 2020 season at the plate, but both have decent power, and in the field, they are sound defenders. Piscotty has the ability to knock 25-plus balls over the fence. The right fielder has a .262 lifetime batting average. Last season, it came in at .226. A rebound in that area this season would be much appreciated.
AL Oakland Athletics Preview 2021 – Final Word
Our AL Oakland Athletics preview 2021 observes that this team has a good, although not spectacular, five-man rotation. That will keep them in the game. However, hitting could still be an issue. However, if some key players can find their swings again, at the plate, this could be a productive team. In team executive news, there were strong indications that executive vice-president Billy Beane would be leaving the organization. But that never materialized. Thus, Beane is back. Steady Bob Melvin returns for his eleventh season as the skipper of the A's. He'll keep Oakland focused and in the hunt for the playoffs.
Summary – Oakland Athletics Preview
Record: 90-72 (Second-place AL West)