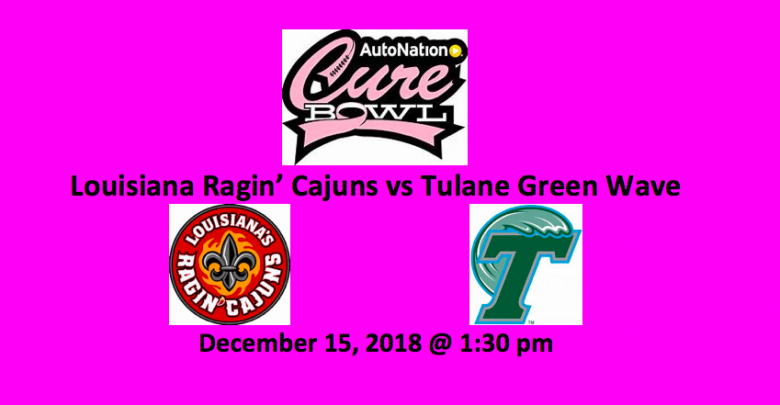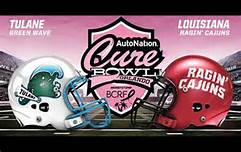 Our 2018 AutoNation Cure Bowl pick offers a matchup between the Tulane Green Wave (6-6, 3rd AAC – West) and the Louisiana Ragin' Cajuns (7-6, 1st Sun Belt – West). The Green Wave had a tough start to the season, as they went 2-5 for their first seven games. But Tulane finished strong as they won four of their last five games to earn an even record. Big wins this season include a 40-24 against Missouri, which finished first in the AAC West, and a final 29-28 regular-season, come-from-behind victory over Navy.
The Louisiana Ragin' Cajuns also struggled at the start of this year, as they went 3-4. Two of those losses were to top-25 teams, as #16 Mississippi State beat them 56-10 and #1 Alabama took then down 56-14. Over their final five regular-season games, the Ragin' Cajuns were 4-1. After winning the AAC West, they met and lost to the East Division winner Appalachian State. The final in that contest was 30-19. Our 2018 AutoNation Cure Bowl pick offers Tulane at -3.5 with the over/under at 61.5.
Tulane Analysis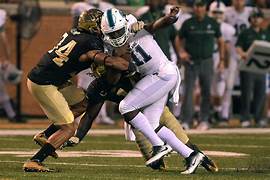 The Green Wave averaged 25.7 PPG, while they allowed opponents 27.8 PPG. Their offense struggled this season. So much so that OC Doug Ruse was let go a few days after the final game of the season. New OC Will Hall came to the team Dec. 7. In 2017, Hall was the OC for ULL, which means his knowledge could be helpful to the Green Wave D. Look for Tulane to run.
The team averaged 208.3 YPG on the ground. To that end, Tulane has two solid RBs in juniors Darius Bradwell (984 YDs, 5.9 YPA, 9 TDs) and Corey Dauphine (754 YDs, 6.5 YPA, 7 TDs). The Green Wave was good for just 186.1 YPG in the air. Senior QB Justin McMillan (50.0 COMP%, 9 TDs, 3 INTs) will start. This season he tossed for just 1,159 yards completing 68-of-136 yards. The Tulane defense, which allowed 419.2 YPG, gave up 266.6 YPG in the air. If Tulane is going to have a chance, CB Donnie Lewis (3 INTs, 14 PD, 1 TD) and DE Patrick Johnson (46 TKLs, 14 TFL, 9 SCKs). Johnson forced four fumbles this season.
University Louisiana – Lafayette Analysis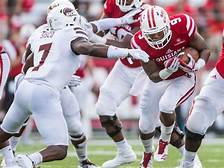 The Ragin' Cajuns offer an offense that's good for 32.5 PPG. ULL allowed opponents 33.7 PPG. Like their AutoNation Cure Bowl opponents, they have no wiggle room between their PF and PA. This is a rushing offense that's averaged 229.1 YPG on the ground. Their passing game has averaged 208.0 YPG. Louisiana has three rushers who ran for more than 700 yards this season, including sophomores Trey Ragas (1,141 YDs, 5.8 YPA, 8 TDs) and Elijah Mitchell (951 YDs, 6.8 YPA, 12 TDs).
QB Andre Nunez (64.4 COMP%, 19 TDs, 12 INTs) has had issues with accuracy and smart decision-making. ULL has had a tough time stopping the run. The Ragin' Cajuns allowed 209.5 YPG on the ground this season. Junior DL Bennie Higgins (38 TKLs, 7.5 TFL, 4.5 SCKs) and LB Chauncey Manac (42 TKLs, 7.5 TFL, 4.0 SCKs) are top performers on a D that has been subpar.
Five Keys to the Game
Green Mean D is tough versus rush
Ragin' Cajuns defense is weak versus the run
Both teams feature productive running games
Look for a low-scoring game
Tulane has won five-of-seven meetings with ULL
Our 2018 AutoNation Cure Bowl Pick
Look for the Tulane running offense and rush defense to be the key in this game. If the Green Wave can take advantage of the Ragin' Cajuns' weak running D, and if, on the other side of the ball, they can shut down their opponent's ground game, Tulane will win this game. Our 2018 AutoNation Cure Bowl pick likes the under at 61.5 and is going with Tulane at -3.5. For more postseason college football picks, see our hub page devoted to all of the 2018-19 bowl games.
Summary Louisiana Ragin' Cajuns vs Tulane Green Wave Picks: Green Wave at -3.5 and under 61.5