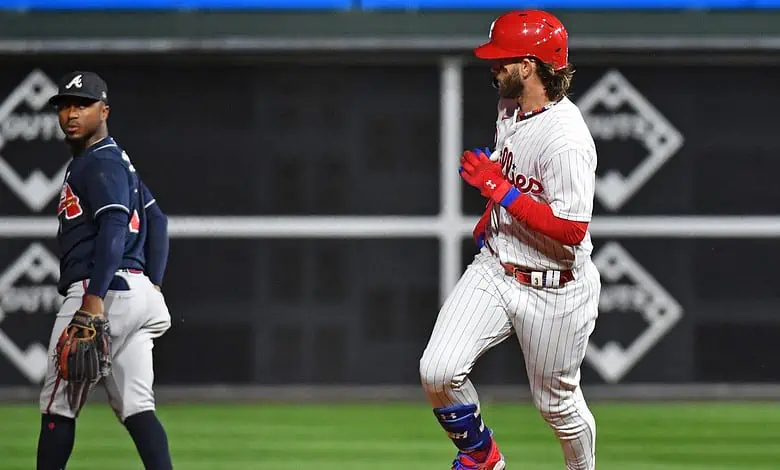 Atlanta has one goal – get their NLDS series back home with a win in the Game 4 Braves at Phillies matchup. The 2021 World Series champions find themselves down 2-1 and also a little demoralized after Philadelphia belted out a record-tying six HRs en route to a 10-2 shellacking on Wednesday night.
The Citizens Bank Park crowd was electric in game 3, but despite the home field advantage oddsmakers still have the visiting Braves as -154 favorites behind their ace Spencer Strider. The Phillies send out Ranger Suarez in this pitching rematch from game 1 that Philadelphia took 3-0.
Why the Braves Have Value on Thursday
Atlanta may be down – but this team falls like they are far from out. The Braves were 104-58 during the regular season, winning the NL East by 14 games while also posting an 8-5 record against the Phillies during the year.
One thing is for sure, if the visitors have any chance in the Game 4 Braves at Phillies matchup they need to get their bats going. Atlanta wasted a great outing from Strider in the opener while getting shut out 3-0 and they mustered just 2 runs on Wednesday. Suarez pitched just 3.2 IP for the Phillies in game 1, so the Braves should get the Phillies bullpen rather early on Thursday night.
Giving up 10 runs in Game 3 isn't ideal, but many times when a team has an offensive output like that they follow it up with a dud. That should especially be true for Philadelphia up against Strider, who pitched 7.0 IP of 1 ER ball in the opener but got exactly 0 run support. Strider was 20-5 this year and led MLB with 281 K's.
Why the Phillies Have Value on Thursday
Philadelphia knows how dangerous it would be to head back to Atlanta on Saturday for a decisive Game 5 against Max Fried, so they would love to close things out on Thursday in front of a raucous Citizens Bank Park.
Teams can have an offensive letdown the game after scoring double digit runs – but are things different in the playoffs? Bryce Harper and Nick Castellanos both went deep twice in Game 3 as the Phillies tied the 2015 Cubs as the only teams to hit 6 HRs in a postseason game. Strider is 8-0 vs Philadelphia – in the regular season, while losing both of his playoff starts against the Phils' with a 5.79 ERA.
Suarez went just 3.2 IP in the series opener – but also gave up just 1 hit and 0 runs in that appearance. The Phillies will likely once again rely on their bullpen in this spot, but their relievers have been great aside from the blown 4-0 lead in game 2 that led to a 5-4 Atlanta victory.
Free Game 4 Braves at Phillies Betting Pick
Atlanta is definitely in hostile territory on Thursday night, but they've got the right man for the job on the mound in Strider. The Phillies offense likely won't duplicate their offensive explosion from Game 3 and an interesting thing about that game was that Atlanta was only outhit 11-10. If the Braves can get a couple of those to be the big hit, it will be more than enough for Strider.
Free Pick: Atlanta -154