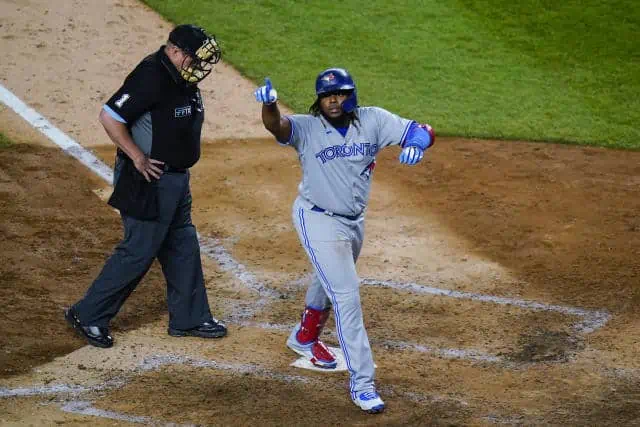 The top two teams in the AL East get set to do battle starting with the Friday June 17th Yankees at Blue Jays betting contest. New York has a 10 game lead over Toronto in the division and have remained red hot with a 7-game win streak. The Yankees are 6-3 in the head to head series so far in 2022.
Toronto is struggling a bit managing just a 2-2 split against the last place Orioles over the week. That includes a 10-2 romping by Baltimore on Thursday when the Blue Jays were -251 favorites. Regardless of the recent woes, oddsmakers have this game listed as a -110 toss-up for both teams.
New York to Draw A Lot of Public Betting?
Surprisingly only 57% of the betting public is on New York in the June 17th Yankees at Blue Jays betting matchup. New York is on a 7-game win streak, but at the same time they only managed 8 total runs over the past three games against Tampa Bay – obvious winning all three though.
The Yankees have gone 14-3 in their last 17 Friday games and are 15-6 in their last 21 away from the Bronx. There's isn't a whole lot to be down about for New York ahead of this series, with Aaron Judge belting out 3 HRs over his last 5 games while Anthony Rizzo and Matt Carpenter among a group of NYY batters hitting over .300 the past week.
New York had to shuffle their pitching rotation a bit on Thursday with Luis Severino headed to the COVID list, They are back on track with Jordan Montgomery (2-1, 2.70 ERA) up looking for his fifth straight start allowing 2 ER or less. Montgomery allowed 2ER over 5.0 IP vs. Toronto on May 2nd in a 3-2 Yankees win.
Blue Jays Wasted an Opportunity
Toronto only managed a 4-game split with Baltimore last series, dropping a few more games behind New York in the midst of the Yankees' current win streak. The Blue Jays are now 10 back in the division but are 20-12 at home on the season.
Despite the mishaps against the Orioles, Toronto is still 15-6 over their last 21 games which includes an 11-5 stretch at home. The Blue Jays are trying to battle through some injuries though, with Bo Bichette questionable after fouling a ball of his leg on Thursday while Matt Chapman continues to struggle through a recent wrist injury.
Ross Stripling (3-1, 3.14 ERA) makes his third straight start after spending some time coming out of the bullpen this year as well. Stripling seems to be adjusting to the role well, allowing just 2 hits and 0 ER over his last 11.0 IP.
Free June 17th Yankees at Blue Jays Betting Pick
New York hasn't been priced this low since a June 2nd matchup against Shohei Ohtani and the Angels in a game they won 6-1. The Yankees offense wasn't great against Tampa Bay, but you almost have to take this team every time they are priced this low – they're 47-16 on the year and have gone 7-2 in their last 9 road games against the Jays.
Free Pick: Yankees -110