Free Expert Sports Picks
NHL Picks
Bruins at Islanders Game 3 Preview
A great playoff series is underway out East, as the Boston Bruins and New York Islanders are knotted up at one game apiece.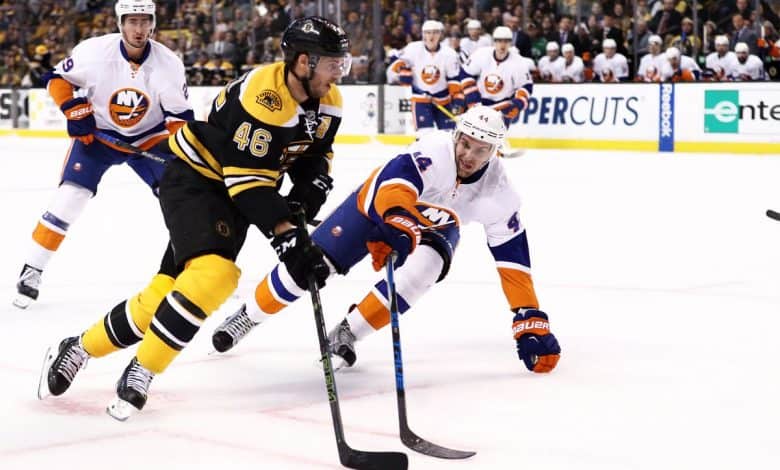 A great NHL playoff series is underway out East, as the Boston Bruins and New York Islanders are knotted up at one game apiece. The Bruins cruised to a Game 1 victory at home, but the Islanders tied things up with an overtime win in Game 2.
With the series now shifting to New York, here is a closer look at the series so far, players to watch on Thursday night and a free pick to win. Despite going on the road, Boston is the favorite at -142 while New York is a home underdog at +120.
Series Recap
Game 1 belonged to the Bruins, as well as David Pastrnak. The dynamic scorer netted a hat trick, scoring in each period, as Boston took the game 5-2. Centers David Krejci and Patrice Bergeron also got into the fun, dishing out a combined five assists.
It was total domination by Boston, who outshot the Islanders 40-22 in the contest. Rookie netminder Ilya Sorokin was swarmed in net and struggled in his worst playoff game to date, while the veteran Tuukka Rask had a fairly quiet night, putting together his fourth straight game allowing two goals or less.
Facing an 0-2 deficit, the Islanders responded on Memorial Day in a huge way, as center Casey Cizikas' overtime winner gave New York a 4-3 win. The Isles scored all three of their regulation goals in the second period, two of them coming via the power play from left wing Josh Bailey and center Jean-Gabriel Pageau.
New York was a lot more even in the shot battle (42-39 BOS) than in Game 1 and were able to overcome another solid performance from Boston's dynamic first line. Rather than going back to the rookie Sorokin, the Islanders started veteran Semyon Varlamov, who stopped 39 shots to earn his first win this postseason.
Players to Watch
Several of the players mentioned earlier are all must-watches on the Bruins. Pastrnak is the team leader with 10 points, including five goals, while Bergeron, Krejci, and left wing Brad Marchand have all looked solid in the first two games of the series. Defenseman Charlie McAvoy has also been active on both sides of the ice, scoring a goal and assisting on another after two games of action.
With a six-game point streak in hand, Islanders left wing Anthony Beauvillier is up to a team-high nine points this postseason, tying him with Pageau for the team lead. Bailey, along with center Brock Nelson are also up there with seven points, each of them contributing in some way to the series so far. However, New York would love to see center Mathew Barzal get going, as the team's leading point producer in the regular season has just four assists in eight playoff games.
Key Stat
Looking deeper into the numbers, you'll see the Bruins average nearly two more "high-danger" chances at 5v5 per game throughout the postseason (9.57 to 7.63). However, the Islanders have scored 12 high danger goals compared to Boston's seven, a near-20 percent success rate. So while Boston has been a better team when it comes to creating offense at even strength, New York is much better at taking advantage of those opportunities when they have them.
Betting Pick
The Islanders will have a huge question to answer in net for Thursday night. Do they go back to the impressive rookie in Sorokin or continue with the veteran in Varlamov? For what it's worth, Varlamov went 12-3-3 at home this season with a 1.87 GAA and .937 save percentage.
For this game, I love the value of the Islanders. Boston has struggled at Nassau Coliseum, dropping their last four games there, while New York will be playing in front of a rowdy crowd with some momentum on their side.
But it's not just momentum and crowd noise. New York is prepared for a close contest, winning three games in overtime already in the playoffs. At plus-value, I'm rolling with the Islanders to win Game 3 and take a 2-1 series lead.
Pick: Islanders +120