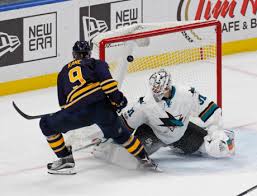 The Buffalo Sabres (16-6-2) will look for their tenth straight win, as they host the San Jose Sharks (12-8-4) on Tuesday, November 27 at 7 PM ET. The Sabres come into the game having gone 9-1-0 in their last ten games. San Jose owns a 5-4-1 record over the same span. Our Sabres play Sharks free pick looks at how a matchup between two teams currently near the top of their divisions will play out. We'll be focused on goaltending, which should prove to be huge in this game. We'll also be looking at the Shark's backend scoring. Plus, we will consider how these teams have been performing recently and what that may mean for tonight's game.
Goaltending Matchup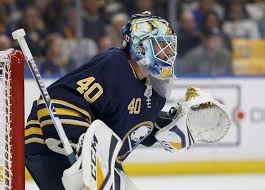 Carter Hutton is projected to start in the crease for the Sabres after backup Linus Ullmark got the shootout win against Detroit Saturday night. Hutton has been stellar during this win streak, posting a 1.94 GAA and a .935 save percentage in his last five outings. Those stats date back to his win against Tampa Bay on November 13th. Hutton will be tasked with continuing his dominance against a balanced Sharks offence which currently ranks 14th in goals per game.
Martin Jones is slated to get the nod in the first game of San Jose's back-to-back games on their East Coast road trip. Jones has had a down start to the season, and has looked shaky in recent starts. In the past five games in which he's played, Jones owns a 2-2-1 record with a 0.874 save percentage. On the year, he has a 3.01 GAA and a .891 save percentage. In road games this season, he has stopped only .886 percent of shots faced, including allowing four goals on 22 shots in his last away game against Dallas. He will need to play much better than he has this season if the Sharks hope to prevent Buffalo from extending their streak to double digits.
Recent Games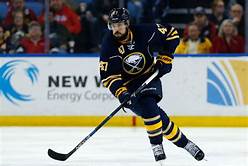 Buffalo comes into this contest with nine straight wins, including two in a row that needed extra time to be decided. Most of these games have been extremely close. In eight of their nine wins, Buffalo has won by only a single goal. They have gotten large offensive contributions from stars Jeff Skinner (18-8-26) and Jack Eichel (5-23-28) during the streak. Over the past nine contests, Skinner has averaged a goal a game. He currently has the second most goals in the NHL. Eichel has been dominant all season. He has 11 points over the nine-game streak.
Buffalo has also seen their D-corps contributing on offence recently. Zach Bogosian (2-4-6) and Rasmus Ristolainen (2-11-13) both have averaged a point per game over their last 4 contests. Rasmus Dahlin (2-11-13) has averaged a point per game over his last 8.
Can The Sharks' Offensive Backend Drive Scoring Against Buffalo?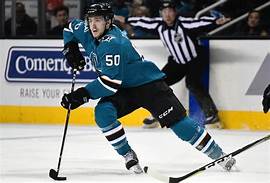 San Jose is coming off of a 6-0 loss to the Vegas Golden Knights. During the month of November, they haven't strung together more than two wins in a row. On the bright side for the Sharks, their backend has seen increased scoring contributions. This is in part due to Erik Karlsson's play. The club's biggest offseason addition looks to have finally found his footing. That happened after a slow start to the year. He comes into Tuesday night's game with 8 points in his last 6 games.
Along with Karlsson, Brent Burns has been instrumental in any success the Sharks have had. Burns is fourth in scoring among defensemen and has 23 points in his last 20 games. With Karlsson and Burns both producing, San Jose's blueline is starting to see success in a similar fashion to what was expected early on.
Sabres Play Sharks Free Pick
We see this game as being close. Almost all of the Sabres wins on their current streak have come in one goal games. With that being said, Buffalo keeps finding a way to come out on top. We find no reason to believe that they will be unable to defeat a Sharks team that has experienced some shaky goaltending. In our Sabres play Sharks free pick, we believe that Buffalo's edge in net will play an instrumental role. We see them getting their tenth straight victory tonight.
Sabres Play Sharks Free Pick: Buffalo Sabres Moneyline (-110) over the San Jose Sharks