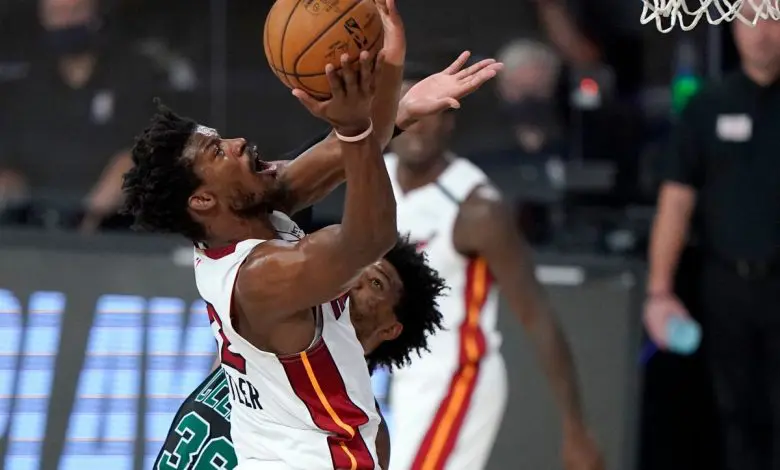 The 5-seed Miami Heat and 3-seed Boston Celtics return to action on Thursday for Game 2 of the Eastern Conference Finals. Miami came back and won the opener of the best-of-seven series, 117-114, in overtime on Tuesday night to take an early 1-0 series lead. 
Tip-off for Game 2 is at 7 p.m. EST inside ESPN's Wide World of Sports Complex near Orlando, Fla. and will be broadcast on ESPN. The Celtics are a 2.5-point favorite according to oddsmakers.
What to Know – Miami Heat
Miami clawed their way back to push Game 1 to overtime, where they prevailed to capture the series opener. The Heat were down by 13 points in the first quarter and as many as 14 in the fourth. Miami improved to 9-1 in the playoffs, a league-best.
Goran Dragic scored a team-high 29 points on 11-for-19 shooting from the floor. Dragic had seven rebounds and five assists while draining three 3-pointers. Jae Crowder chipped in 22 points, aided by five 3-pointers, and Jimmy Butler added 20 points, five rebounds, and five assists.
Tyler Herro was one assist away from recording a triple-double (12 points, 11 rebounds, nine assists) and Bam Adebayo's block in the closing seconds of overtime locked up Miami's victory.
The Heat finished Game 1 shooting 47.1 percent (40-for-85) from the floor and 44.4 percent (16-for-36) from beyond the arc. 
What to Know – Boston Celtics
The Boston Celtics took a 12-point lead into the fourth quarter and held it until the final minute when Butler nailed a three-pointer from the corner to push Miami ahead with 22 seconds remaining. Boston will try and even the series on Thursday or fall behind 0-2. 
Jayson Tatum led all scorers with a game-high 30 points, shooting 10-for-24 from the floor and a perfect 6-for-6 from the charity stripe. Tatum also grabbed 14 rebounds and dished out five assists to fill up the stat sheet.
Marcus Smart poured in 26 on 9-for-18 shooting, including six-made threes. Kemba Walker provided 19 points and six assists, while Jaylen Brown added 17 points. 
Boston shot 44.3 percent (39-for-88) from the floor and 35.7 percent (15-for-42) from beyond the arc. The Celtics had 24 assists to just 10 turnovers.
The Pick is In
Boston controlled Game 1 for a majority of the contest and ultimately did not make the plays it needed to down the stretch. Miami did make those plays and find themselves with the early series advantage and chance to build a 2-0 cushion. 
There is no reason to believe that Game 2 won't be another close contest. Somewhat of a Cinderella story, the 5-seed Heat are three victories away from punching their ticket to the NBA Finals. Another close one, but we expect the Celtics to hold in this one, ride with Boston -2.5.