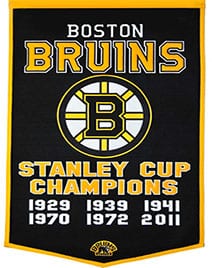 Overview
The Minnesota Wild are in Beantown Tuesday to take on the Boston Bruins. The Bruins and Wild don't play each other very often just once every year or so but when they do the Bruins don't do very well. The Bruins have won just 3 of the last 14 meetings versus the Wild going back to 2000. At home it doesn't get much better for the Bruins winning just 1 of the last 7 meetings with the Wild but that one win was in their last game so that's something to look forward to for Bruins fans.
Head to Head Trends
Wild are 11-3 in the last 14 meetings.
Wild are 6-1 in the last 7 meetings in Boston.
Boston Bruins (-155) 
The Boston Bruins are 4th in the Atlantic Division with 10 points 4 back of the 1st place Montreal Canadians. This season the Bruins have not looked like the power house team they have been the past few seasons. They got off to a really rough start losing 3 of their first 4 games but they have turned it around a bit winning 4 of their last 6 games. The Bruins problem over those first 4 games was putting pucks in the net scoring just 4 goals but it looks like they found their scoring touch again as they have potted 22 goals over their last 6 games so hopefully the Bruins are back.
Boston Bruins Trends
Bruins are 44-18 in their last 62 home games.
Bruins are 20-8 in their last 28 after allowing 2 goals or less in their previous game.
Minnesota Wild (+140)
The Minnesota Wild are 4th in the Central Division with 8 points 4 back of the 1st place Nashville Predators. The Wild are looking pretty impressive this season especially on defense allowing just 1.6 goals per game and that's still after allowing 5 goals to the Rangers last night. The most surprising stat for the Wild is not on defense because we expect them to play good defense, it's that they are actually averaging 3.29 goals per game on offense which is obviously good especially for them but in sports things tend to even out and they're probably due for a couple poor offensive performances.
Minnesota Wild Trends
Wild are 1-6 in their last 7 road games.
Wild are 1-8 in their last 9 after allowing 5 goals or more in their previous game.
Conclusion
I like the Boston Bruins over the Wild in this one. The Wild are playing their third game in four days so they're probably going to be a little tired and Bruins have had a couple days off so they're rested and just might have a little extra energy for tonight's game.
Free Pick: Boston Bruins -155