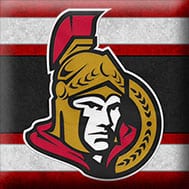 Overview
The Boston Bruins are in Ottawa tonight where they take on division rivals the Ottawa Senators. The Senators have won the last 2 meetings but the Bruins have played the Senators very well over the past 5 of so seasons winning 28 of the last 38 meetings overall plus they have also won 16 of the last 21 meetings played in Ottawa.
Head to Head Trends
Bruins are 28-10 in the last 38 meetings.
Bruins are 16-5 in the last 21 meetings in Ottawa.
Ottawa Senators (+105)
The Ottawa Senators are 6th in the Atlantic Division with 71 points and are just 5 points behind the Bruins for the final playoff spot so this is a huge game for the Sens. The Senators have been playing some great hockey over the last few weeks winning 8 of their last 9 games with that one loss coming in a shootout versus the Wild. When you looked at the Senators goals for and goals against you could have almost predicted they would go on a run but I wonder if this current hot stretch might be coming to an end. In their last game they gave up 4 3rd  period goals to the Flames and were lucky to come away with the win taking it in a shootout and the game before that they scored 2 3rd period goals to just squeak by the last place Sabres so we're starting to see a few cracks in the Sens play.
Ottawa Senators Trends
Senators are 8-1 in their last 9 overall.
Senators are 6-13 in their last 19 in the fourth game of a 4-in-6 situation.
Boston Bruins (-125)
The Boston Bruins are 4th in the Atlantic Division with 76 points and are currently holding down the final playoff spot in the East 4 points ahead of the Florida Panthers. The Bruins are also playing some pretty good hockey right now winning 4 of their last 5 games with their only loss coming in a shootout to the Flames. Something interesting about the Bruins this season is the fact that they have the fewest power plays in the league by far at just 2.5 per game but it looks like the refs finally got the message as the Bruins have had 32 power plays over their last 8 games and in today's NHL special teams play a huge role.
Boston Bruins Trends
Bruins are 4-1 in their last 5 overall.
Bruins are 50-21 in their last 71 vs. a team with a losing record.
Conclusion
I'm going with the Boston Bruins over the Senators in this one. I hate to go against a hot team like the Senators but it looks like the Bruins are finally starting to pick up some momentum and things are starting to go their way.
Free Pick: Boston Bruins -125