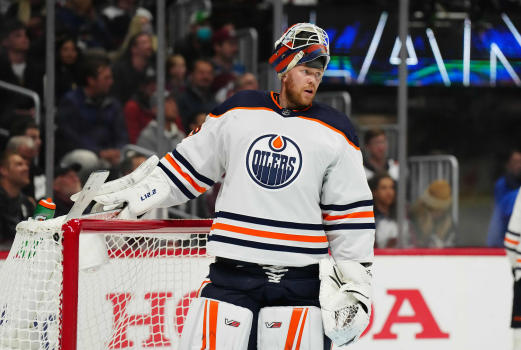 We will see if goaltending is optional once again in the Oilers at Avalanche Game 2 betting preview in the Western Conference Finals. Colorado took the opener 8-6, cashing in as -197 favorites and hitting the 'over' 6.5 just three minutes into the second half.
Obviously both teams have some defensive concerns heading into Thursday night's matchup at Ball Arena. Game 1 was a 7-6 battle until Gabriel Landeskog hit an empty netter with 22 seconds left to hit the 8-6 margin. Colorado is a -169 favorite in Game 2 and oddsmakers have bumped the total up to 7.
Back to the Drawing Board for Edmonton
You have to give the Oilers credit, they battled in Game 1. They were down 7-3 at one point and came back within 7-6 but ultimately couldn't find the back of the net for the equalizer. It was the 5th time in the last 6 playoff games that Edmonton has scored 5+ goals.
Now the Oilers have to do something they haven't done in awhile, regroup after a loss. Edmonton did lose the opener in the semifinals 9-6 in very similar fashion to the Flames, but bounced back to win four straight and take the series against Calgary. Will we see a repeat?
Star power was there for Edmonton in the opener. Connor McDavid had a goal and 2 assists, Leon Draisaitl had 2 helpers, Evander Kane had a goal and 2 assists, and Zach Hyman found the back of the net for the 6th straight game. All that doesn't do any good though when Mike Smith only stopped 19 of 25 shots. Mikko Koskinen was better in relief saving 20 of 21, so does Edmonton make the switch for Oilers at Avalanche game 2 betting?
Net Issues for Colorado Also
Jay Woodcroft may make the change in net for Edmonton out of performance, but Jared Bednar could be forced to do so out of necessity. Starting goaltender Darcy Kuemper went down in the 2nd period with an upper body injury, but he was also struggling giving up 3 scores on the first 16 shots he faced.
Pavel Francouz came on in relief on Tuesday and also gave up 3 goals while facing 21 shots. Francouz was able to play with a big lead most of the game, but that was slipping away in the 3rd period. Did the Oilers lost game 1…or did they just ran out of time? Francouz was 15-5-1 with a 2.55 GAA during the regular season.
Colorado's offense definitely showed up on Tuesday, Nathan Mackinnon, Landeskog, Mikko Rantanen, and Nazem Kadri were among those who all found the back of the net. It really doesn't matter who is in net for the Avs with production like that.
Free Oilers at Avalanche Game 2 Betting Pick
There are question marks in net for both teams entering Thursday night's showdown. Does that lead to an instant play on the 'over' 7 with all the talent both of these teams possess on offense? Koskinen actually played kind of well in relief during Game 1, but Colorado might have also eased up a bit with the lead.
Either way, Edmonton bounced back from a big loss to Calgary in the opener last round, so they have the experience of having been in this situation before. Good enough for me.
Free Pick: Edmonton +150