NFL Picks
NFL Pick: Pittsburgh Steelers at Cincinnati Bengals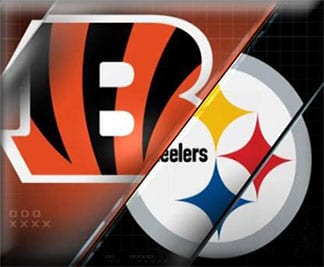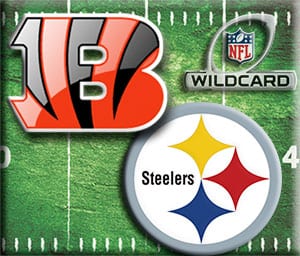 The Pittsburgh Steelers head to Ohio to battle the Cincinnati Bengals on Saturday, as both sides meet for the third time this year. Divisional playoff games are as intense as it gets, and it's tough to know which way is up in the third clash on the year. The team split the 2015 regular season series and it's yet to be determined if Andy Dalton and DeAngelo Williams will suit up. Those big name injuries aside, let's take a look at this weekend's showdown and see who might come away with the win.
Matchup History
This is obviously a very rich rivalry, as the Steelers and Bengals have gone head to head since 1970. Pittsburgh has dominated the series (57-35), including a win in their lone playoff meeting back in 2005. Andy Dalton may not suit up for this game, but he and the Bengals have had a tough time against Ben Roethlisberger and co., as the two sides split the 2015 season series and the Steelers have found a way to steal four of the last five games. Cincinnati won back to back games at the end of 2012 and beginning of 2013, but has otherwise struggled mightily overall, with Pittsburgh claiming 9 of the last 12 meetings. The Steelers come into Saturday as mild favorites at least partially because of that.
Steelers Preview (-3)
The Steelers felt like a title contender coming into 2015, and then had to withstand two separate injuries to Ben Roethlisberger, as well as a season-ending knee injury to superstar rusher, Le'Veon Bell. DeAngelo Williams was their saving grace, but he could be lost for this showdown due to a serious ankle injury. That's the main thorn in Pittsburgh's side for this weekend, as no D-Will could really stunt their rushing attack and leave them one-dimensional. That's the last thing they want on the road against a very good Bengals defense – one that specifically has harassed Big Ben this year and throughout 2015 has been solid against the pass.
DeAngelo Williams has 174 more rushes than the rest of the Steelers active RB COMBINED. pic.twitter.com/7iMhCxqrvl

— NFL on ESPN (@ESPNNFL) January 8, 2016
Bengals Preview (+3)
Cincy could be in a tough spot of Dalton can't suit up, as A.J. McCarron struggled in a loss to the Steelers in their second meeting and would have a lot on his plate if this game got into a shootout. There is reason to believe McCarron could still get the job done, however, as he went a solid 2-1 as the starter down the stretch, with his lone loss being a tough 20-17 overtime defeat in Denver. McCarron isn't afraid to attack defenses and he still has the weapons to keep a very shaky Steelers secondary on the toes. The real issue is that he's not very experienced and the Steelers will surely try to make him beat them. That could go horribly, and again, engaging in a shootout with Big Ben may be ill advised. The other problem is Cincy's running game has run hot and cold in 2015 and defending the run in Pittsburgh's defensive strength. If we're placing bets based on McCarron's ability to take down Roethlisberger himself, that's a notion that is tough to buy.
The NFL moneyline odds at most betting sites is at -150 for the Steelers and with spread the Bungals are getting +3 points.
The Pick
The Steelers feel like the obvious straight up pick and that feeling grows stronger if D-Will can start and not be held back by his ankle issue. The only thing to really fear is if Dalton returns and is at full strength and/or the Bengals find a way to effectively run the ball. That would take Pittsburgh's greatest strength away from them and keep their potent passing game from taking over the game. None of that makes any sense at the moment, though, so the Steelers remain the straight up pick.
The ATS numbers favor Pittsburgh, as the Steelers are a sick 16-4-1 ATS in their last 21 meetings in Cincy, while they're a strong 4-1 ATS against the Bengals in their last five clashes, overall. That's probably enough for me, but it's worth noting that the Bengals are no slouch at 12-4 and were a solid 6-2 on their home field.
Everything still points to a Steelers win and while I think it's close, I'll take Pittsburgh to mildly beat the spread.