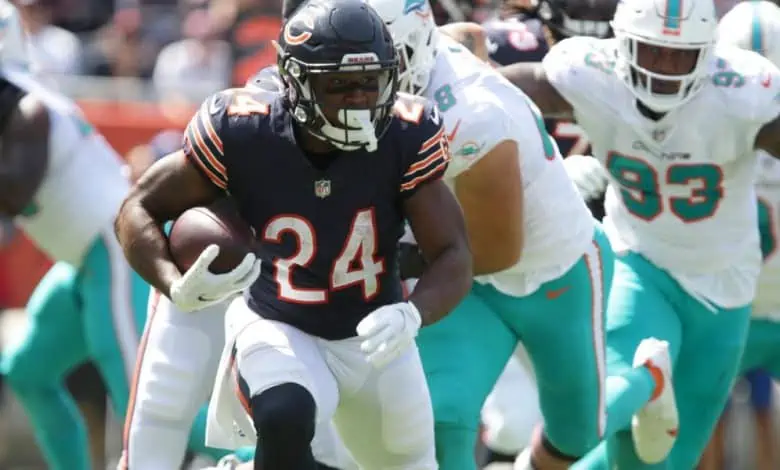 Miami is on the road against an NFC North opponent for the second straight week, but they'd take the same offensive numbers they put up in last week's 31-27 win in Detroit. Tua Tagovailoa was a surgeon in that game going 29/36 for 382 yards with 3 TDs and 0 INT. He could very easily repeat those numbers in the Dolphins at Bears betting matchup.
Chicago has been playing better since their downright ugly 12-7 home loss against Washington on Thursday night in week 6. Since then they have gone to New England and won 33-14 on Monday Night Football and put up some solid offensive numbers albeit in a 49-29 loss to Dallas last week. Miami is a -4.5 favorite coming into Sunday's meeting.
Miami Offense Licking Their Chops
The Dolphins finally broke out of their offensive slump last week putting up 31 points against Detroit. They had been held to 17 or less in four games prior (1-3) and that's even when Tagovailoa returned from concussion protocols in an ugly 16-10 win on a Sunday night against Pittsburgh.
You have to take the 30+ point output last week with a grain of salt considering Detroit gives up the most yards in the NFL, but Chicago's defense just got racked for 49 points last week against Dak Prescott and the Cowboys. Prescott hit 21/27 passes but Dallas ran 29 times for 200 yards even without Ezekiel Elliott so that's an aspect Miami and their 88.1 rushing yards/game can attack.
While Miami might be able to run the ball in Dolphins at Bears betting, they also need to stop what is an improving Chicago offense. The Bears have run for 243 and 240 yards the last two weeks so the Dolphins' 6th ranked rush defense has a challenge (100.6).
Chicago Making Moves
Everybody outside of a couple diehard fans knows that this is a rebuilding year for Chicago (3-5) as they see what they have with their current roster while also get prepared to have $100 million + available to spend in the offseason. New GM Ryan Poles hasn't stayed still at the trade deadline, trading away key defensive pieces Robert Quinn and Roquan Smith but also bringing in a new WR in Chase Claypool from Pittsburgh.
Nobody knows what Claypool's role will be on Sunday as he's only been in Chicago a couple of days, but either way the Bears offense – and especially QB Justin Fields – has shown improvement the past two weeks. Chicago is getting creative with Fields in calling some designed runs as he had 82 yards rushing and a TD vs the Patriots and 60 and another score vs. Dallas.
Free Dolphins at Bears Betting Pick
It seems almost guaranteed that Miami is going to get theirs on Sunday, but Chicago's offense has made some great adjustments the past couple games and they can go blow-for-blow in this contest. The Bears are back home after a two week road trip and playing with some confidence in front of some hometown fans who are excited for the future of this team.
Free Pick: Chicago +4.5