NFL Picks
NFL Pick: Seattle Seahawks at Minnesota Vikings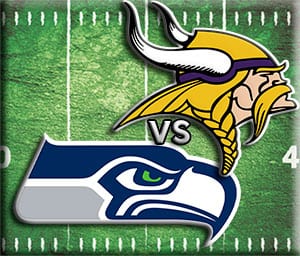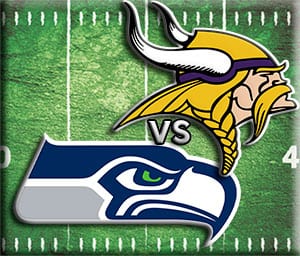 The Seattle Seahawks and Minnesota Vikings square off in week 13 in what is quite easily the biggest NFL game of the week. Russell Wilson just got done winning his first game ever where his defense gave up over 30 points, while Adrian Peterson ran wild on the Falcons to keep the Vikes in first place in the NFC North. Both teams are trending in the right direction at exactly the right time, but only one can get the win on Sunday.
Matchup History
This is not a storied matchup, as the Vikes and Seahawks have faced each other just 13 times throughout history, with Seattle owning the 8-5 edge. It's been two years since their last showdown, when Seattle trounced the Vikings at CenturyLink Field in Seattle. Seattle has won two straight and three of the last five, but hasn't won in Minnesota since 2004.
Seahawks Preview (n/a)
Seattle hasn't been the same team that has made it to the past two Super Bowls, as the Legion of Boom has regressed in a big way and Beast Mode himself, Marshawn Lynch, is on the shelf with an injury. Seattle has overcome a slow start with two straight impressive wins, but they have not been a team to fear on the road in 2015 (just 2-3 away from home) and aren't playing the scary brand of defense opponents are used to seeing. That being said, they still look quite dangerous after dropping 39 points on the Steelers last week and their run defense remains one of the stingiest units in the entire league. They did lose tight end Jimmy Graham and are down their top running back, but they still won't be wanting for confidence.
By the numbers: Minnesota Vikings vs. Seattle Seahawks https://t.co/S7gU0mCQRt

— Betting Brain (@betsmarter) December 6, 2015
Vikings Preview (n/a)
A slight slip up against the Packers at home two weeks ago is all that is keeping Minnesota from being on a wild seven-game winning streak right now, as the Vikes have ridden a still elite Adrian Peterson and a very solid defense to a hot 8-3 start. It remains to be determined if this team is fool's gold, but so far they look plenty legit. Teddy Bridgewater's ability to win a game on his own has been the only real question mark, as he largely faltered under pressure against the Packers in week 12. This week Bridgewater may be forced to put the team on his back again, as Seattle's suffocating run defense may make it their first objective to shut down Adrian Peterson. While a tall order, accomplishing that would make Bridgewater finally show the world if he's ready to take the Vikings to the next level.
On the NFL Moneyline odds
at Bookmaker.eu
the Seahawks are at -125 and with the point spread the Vikings are getting +2 points.
The Pick
This is a pick'em game, and rightfully so, as the Vikings have proven themselves to be a strong playoff contender at 8-3, but the Seahawks have been to two straight Super Bowls and aren't exactly a pushover at 6-5. More importantly, Seattle could potentially be undefeated right now if they knew how to close out games, as they've been up in every single contest during the fourth quarter this year.
The point here is that Seattle oddly is a lot better than their record shows right now, but they're also not invincible – especially on the road. I've seen a more urgent team the past couple of weeks, though, as Seattle knows a loss this week would drop them to 6-6 and risk missing out on a wild card spot. This game is just as big for Minnesota, as a loss would give first place in the NFC North back to Green Bay, who beat the Lions on Thursday Night Football. I don't fully trust the Seahawks these days, but I tend to trust them slightly more than Minnesota.
I'd give the Vikes a shot if there was a spread to beat, but in a straight up situation, I can't help but side with Seattle.