NFL Picks
NFL Pick: San Diego Chargers at Jacksonville Jaguars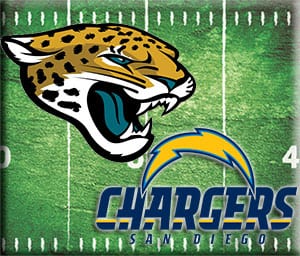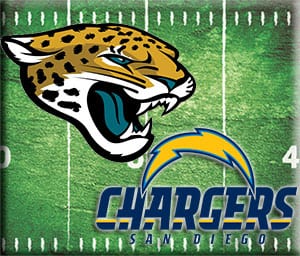 The San Diego Chargers looked like a team that would be a tough out before 2015 started, but the losses have piled on and a brutal six-game skid has them sliding into week 12 completely off the rails. That's bad news even against the 4-6 Jacksonville Jaguars, who play host and are still just one game back in the loss column from stealing the AFC South division crown.
Matchup History
This is not a storied matchup at all. Despite the Jaguars being in the league for almost 20 years now, these two teams took almost a decade to face off for the first time (2003) and have faced just seven total times. It's not surprising to see San Diego lead the way (5-2) in this series, as they've been the far better team on a consistent basis during Philip Rivers' tenure. In fact, the Bolts have won four straight and won last year's battle rather easily, 33-14.
Chargers Preview (+4)
San Diego overcame a huge deficit in week one and looked like a team that could accomplish anything when playing their best ball. Unfortunately even when their offense has been humming, other pieces have failed to step up. A stingy pass defense has slowly eroded due to injuries and the Chargers haven't been able to stop the run or run the football on offense for the entire year. It's sad, really, as Philip Rivers has turned in a gem of a year from a passing perspective, but simply has gotten zero help around him. San Diego has even endured major injuries around Rivers in the passing game, as Keenan Allen and Malcom Floyd are out for the year and tight ends Antonio Gates and Ladarius Green have both been banged up.
Jaguars Preview (-4)
Jacksonville has been very up and down as a whole in 2015, but they're a much more competitive and dangerous team than we're accustomed to seeing. Blake Bortles still turns the ball over and makes silly mistakes, but he's put this offense on his shoulders and made the Jaguars a unit to fear. The defense has been solid at times, too, with the key thing holding Jax back being their lethargic rushing attack. They might be able to turn the tables on that one in week 12, though, since the Chargers have one of the worst run defenses in the entire league.
The Pick
Part of me wants to back the Chargers, just because Rivers is so good and never gives up. However, it hasn't been working the past six weeks and with so many banged up or absent bodies on offense, it's tough to see it suddenly clicking for Rivers and co. on the road this week. Jacksonville also has much more to fight for, as a win could potentially get them first place in their division this week.
I don't need extra stats to tell me the story here. The Chargers are lifeless and the Jaguars have real hope.

I like Jacksonville to win and cover.