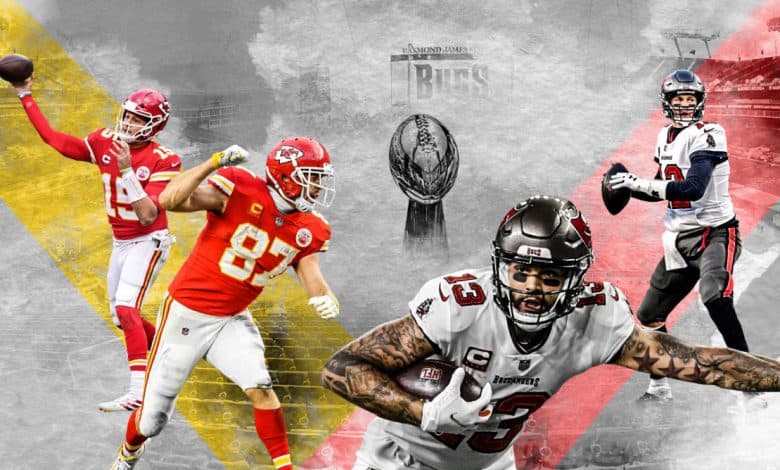 A lot of betting experts say that prop bets are a waste of money because the house edge is even higher than side and total wagers. That being said, it's the last game of the year and Super Bowl LV prop bets are fine when they win. Let's take a look at some of the most 'propular' wagers for Sunday.
QB Passing Yards: Patrick Mahomes 329.5, Tom Brady 295.5
If you can handicap the outcome of the game correctly, you can usually nail down the QB's performance. If a team gets a big lead for example, they're going to try to eat clock and hoist the Lombardi and the trailing team is going to throw. A closely contested game can go either way.
Patrick Mahomes tossed for 255 yards in the 22-17 win over Cleveland but had 325 in the two TD win over Buffalo. Mahomes also only had 286 yards through the air in last year's come from behind Super Bowl win over San Francisco. The Bucs gave up 346 to Aaron Rodgers last week but he was playing from behind the whole game.
Tom Brady threw for 348+ in three games to close out the regular season as well as in the wild card round win over Washington. Brady had just 199 vs. the Saints but did throw for 280 in the elements at Green Bay. Josh Allen couldn't break 300 yards despite throwing 48 times vs. KC in the AFC Championship game.
Mahomes Under 329.5 / Brady Over 295.5
Super Bowl LV Prop Bet: MVP
The obvious front runner here is Patrick Mahomes (-110), who won the MVP award in KC's Super Bowl win last season. If Tampa Bay pulls the game out, it's almost a guarantee for Brady (+200), even though they avoided the storyline route in crowning Von Miller the SB 50 MVP instead of Peyton Manning.
There's great value on Travis Kelce at +1000 despite a tight end never winning the award before. Kelce dominated all season with 105 catches and 1400+ yards, and that's continued in two playoff games where he has 21 catches, 227 yards, and 3 TDs.
Jason Pierre-Paul at +6000 would provide a nice windfall and he should have another step up game. JPP had two sacks vs. Green Bay in the NFC Championship game. Devin White +3000 closed out the regular season with 4 sacks and 22 tackles in wins over Atlanta and Detroit and has made 26 stops with an INT in the two playoff games he's been in this season.
Travis Kelce +1000
Super Bowl LV Prop Bets: First TD
Nobody this side of Miss Cleo can predict the future, but there are some probabilities for the first Super Bowl TD. Kelce (+550) has value simply because he's been targeted 26 times in two playoff games. Tyreek Hill at +600 is also worth a play because he can score from anywhere on the field.
Brady going to Rob Gronkowski (+1600) would be a great storyline but Bruce Arians might prefer to reward somebody like Mike Evans (+1050) who has been with Tampa Bay through some pretty dark days.  Leonard Fournette (+1050) has the best ROI though as he has scored in two of three postseason game.
Mike Evans +1050
Tampa Bay First Touchdown Will Be?
Pass is the favorite at -200, but with Fournette in the backfield as well as Brady's penchant to sneak if they get down to the 1-yard line there's value on the alternative.
Any Other Result +145
Kansas City Player to Have 2+ TDs
Obviously Kelce is a favorite to score twice, as he has 3 TDs in two postseason games. Tyreek Hill hasn't scored during this postseason, but he's been targeted 21 times and is a threat to score every time he touches the ball.
Yes+115
Away Team First TD Scorer
KC's first two TDs the last two games have come inside the 3-yard line, a 1-yard Mahomes sneak and a 3-yard shovel pass to Mecole Hardman. If KC scores from anywhere outside even the 5-yard line it's great value for Kelce.
Kelce +270
First Half to Score a TD
There's worse prop bets out there than Travis Kelce to score a TD in the first half at +150. Mike Evans at +275 is a solid play as well. If you're confident in the 'over' or at least 40+ points being scored, there's a pretty good chance these guys find the end zone.
Kelce +150
Either Team to Win By Exactly Three Points
The line has been hovering around 3 to 3.5 for two weeks, and that hook looms large for books in the biggest betting event of the season. A team winning by a field goal to crush around half the bettors isn't out of the question in this Super Bowl LV prop bets.
Yes + 400
Which Will Happen First Sack or TD?
The Chiefs offensive line is banged up and Tampa Bay would be smart to test them early. Brady isn't exactly a mobile QB in his own rights even though the Chiefs were just 19th in sacks this season.
Sack +110