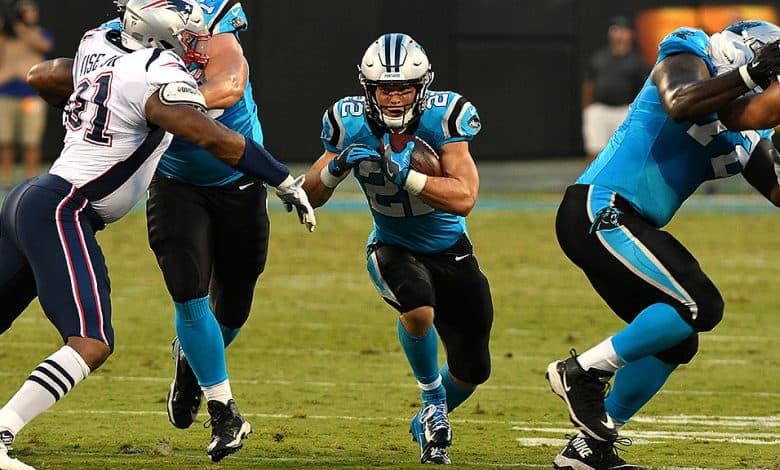 New England has a tough act to follow after their 27-24 win in Los Angeles against the Chargers last week. Bill Belichick takes his team on the road once again in the week 9 Patriots at Panthers matchup where New England is a -3.5 road favorite. The Pats' are 3-0 away from Gillette Stadium this year, but Carolina is coming off a big win of their own.
The Panthers were able to snap a 4-game skid in a 19-13 win over the Falcons last week as +2.5 underdogs. Carolina is also expecting to get RB Christian McCaffrey back in some capacity from a hamstring injury, and QB Sam Darnold has also passed concussion protocols and will get the start. Can Belichick draw up a game plan accordingly?
Patriots Chugging Along
The Bills are the darlings of the AFC East again this season at 5-2, but the 4-4 Patriots are right in the hunt and with two games against Buffalo still remaining on the schedule. New England proved they aren't going anywhere with a 27-24 win over the Chargers last week in a game that many people though the Patriots could lose as +3.5 underdogs headed to the West Coast.
New England is 3-2 over their last 5, but those two losses have come 19-17 against 6-2 New England and 35-29 in OT against 6-1 Dallas. Both of those close defeats were at home, and although the Patriots are 3-0 on the road two of those wins came against the Texans and Jets who are a combined 3-13.
The big key to New England's win over the Chargers was getting the running game going as they ran the ball 39 times for 142 yards. Damien Harris has stepped into the feature back role nicely with 100+ yards in two of the last three and 5 TDs over the last four games. QB Mac Jones was just 18/35 vs. LAC, but also had his second straight game without an INT which is huge for the rookie.
Panthers Welcome McCaffrey Back
Carolina is likely to get Christian McCaffrey back which is huge for this offense. The RB hasn't played since a 24-9 win over Houston in week 3, and it's no coincidence that the Panthers are just 1-4 in his absence.
That one win without McCaffrey came last week where the Panthers were able to outlast Atlanta 19-13 as +2.5 underdogs. QB Sam Darnold was unable to finish that game after suffering a shoulder injury and a concussion on a big hit late in the game. Although Darnold has been cleared, he hasn't been able to practice all week and he's had his share of struggles in his career with the Jets against Belichick defenses, famously "seeing ghosts" a couple years ago against the Pats.
Can Darnold lead the Panthers offense to keep up with New England in what could be a higher scoring game even though the betting total is just 41.5. New England is giving up just 20.5 ppg which is 8th best in the league.
Week 9 Patriots at Panthers Pick
It's hard enough to win back to back games in the NFL let alone having to do them both on the road but that's the position New England is in on Sunday. It's also difficult to go against a Bill Belichick defense when you haven't practiced all week but that's the spot Darnold is in. Ultimately New England is developing a running game and their young QB isn't turning the ball over which is enough to make them the play.
Patriots 27 – Panthers 24 
Pick: New England -2.5 (-120)