NFL Picks
NFL Pick: Seattle Seahawks at Carolina Panthers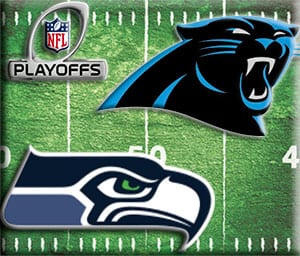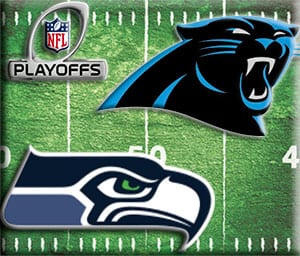 Three of the NFL Divisional Round playoff games seem fairly predictable at first glance this weekend. Seattle vs. Carolina is not one of them. In what should be a tight defensive battle, Russell Wilson leads the Seahawks into Carolina this week, where the 15-1 Panthers hope to advance to the NFC title game. Is it time for the torch to pass to Cam Newton, or will it be Seattle that gets to a third straight NFC Championship game?
Matchup History
Carolina and Seattle met earlier this year for just the 10th time in league history, as the Panthers entered Seattle and took down the Seahawks on their home turf. They did it in heroic fashion, too, as Newton connected with Greg Olsen late for the go-ahead score. That win gave Carolina just their third win in the series, however, as the Seahawks have dominated with a 7-3 record. Each battle has been rather tight recently, however, while the Seahawks were on quite a tear with a five-game winning streak against Carolina before losing this year. These games have historically been quite close, with six of the 10 contests being decided by a touchdown or less.
Seahawks Preview (+3)
Seattle is a very tough team to gauge, as they started the year off very slowly and really didn't look like a Super Bowl contender again until both Marshawn Lynch and Jimmy Graham were on the sidelines. Russell Wilson went on a ridiculous run to end the year and helped push Seattle into the playoffs at a respectable 10-6. Seattle has several bad losses on the year and even lost three games at home, with one of them being against these very Panthers in the waning seconds back in October. Even in a loss, Seattle played the Panthers very close and could have easily hung on to win the game. Not finishing games is something Seattle has also struggled with in 2015, but a strong run to close the year has somewhat erased their early-season problems.
Since their Week 6 loss to the Panthers, the Seahawks are No. 1 in the NFL in total defense, and No. 4 in total offense.

— Albert Breer (@AlbertBreer) January 17, 2016
Panthers Preview (-3)
Carolina is a mixed bag. On one hand they're a 15-1 team that dominated the league in terms of record, and have a legit MVP in Cam Newton that was so clutch in so many games and also did all of this without top receiver Kelvin Benjamin (torn ACL). On the other hand, the Panthers ran through a very weak NFC South division, arguably got pretty lucky several times and had numerous close games. It seems that in a sense they were built up to be an elite team simply because they were shooting for perfection, but once they lost to the Falcons in week 16 their mystique dissipated. Perhaps that makes them more dangerous than ever, but the fact that Cam Newton is responsible for everything leaves Carolina fairly vulnerable. It's worth noting that he wasn't amazing throughout the last meeting with Seattle, either, as he did throw two picks and needed an awesome final drive to get the job done.
The Pick
Carolina is really tough to pick against, as they ended up looking like the best team in the league later in the year and had a terrific shot at going 16-0. Not only were they an impressive 15-1, but they were also 8-0 on their home field. They worked hard for that home field edge, and now they have it throughout the playoffs. It is admittedly tough to see them blowing that against a team they already figured out earlier this season.
All of that is true, but here are some other truths: Seattle is a team that has endless amounts of luck. It dates back to that crazy Toucherception (or Fail Mary) play against the Green Bay Packers, the ending to last year's NFC title game and even just last week, when the Vikings blew a 27-yard field goal. Not only is Seattle a very good and deep team across the board, but they have an uncanny ability to overcome all odds and win games they simply should not win. That skill is almost more dangerous than any other aspect of their team.
Eventually Seattle's luck will run out, but with a history of tight finishes and their previous meeting this year being Carolina's first win in six tries, I'm finding myself siding with the Seahawks.