NFL Picks
NFL Pick: Philadelphia Eagles at Detroit Lions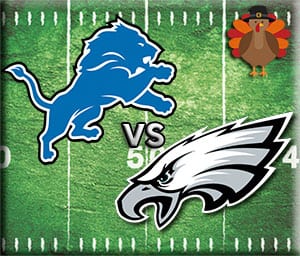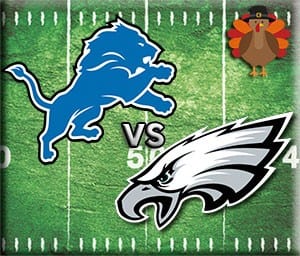 It wouldn't be Thanksgiving Day without Detroit Lions football. Well, it certainly would, but the Lions are an obvious staple for turkey day games and thanks to a nice two-game winning streak, they're also suddenly watchable. The Eagles definitely weren't last week, which gives us an interesting matchup between one team seemingly falling apart and the other (albeit a little too late) piecing their 2015 season together.
Matchup History
The Eagles and Lions don't have an overly storied history, as the two sides have only met 31 times, with the Eagles leading the series, 16-13-2. The Eagles have definitely dominated lately, as they won the last meeting (34-20) in 2013 and have claimed seven of the last eight contests. Detroit did win in 2012, but they needed overtime to pull out a 26-23 thriller.
Eagles Preview (-1)
The Philadelphia Eagles are a total mess right now, as they're down from 29 points per game as an offense in 2014 to just over 22 per game this year. That has a lot to do with Sam Bradford's struggles, as well as Mark Sanchez failing to pick up the slack the past two weeks. DeMarco Murray's effort has also been called into question and the defense really laid an egg at home last week. All that being said, Chip Kelly's system has worked in the past and when the running game is humming, the Eagles are still a dangerous team. That being said, they've lost two in a row and there are early signs of a completely implosion.
#Eagles QB Sam Bradford (shoulder, concussion) officially listed as questionable for tomorrow. Appears to be a long-shot to see him tho

— Ian Rapoport (@RapSheet) November 25, 2015
Lions Preview (+1)
Detroit looked lost just a few weeks ago, standing in at 1-7 and pointing fingers for who was to blame. The team even fired offensive coordinator Joe Lombardi, and one week later they got housed by the Chiefs in London. The train looked to be coming off the track, but Detroit kept things together, won in Green Bay for the first time in 24 years and held serve at home last week against a rising Raiders squad. The Lions still don't run the ball all that effectively and their passing game isn't without flaws, but their defense is playing at an elite level, they're at home and they still have plenty of offensive talent to get behind.
The Pick
On the NFL moneyline odds at 5Dimes is at -135 for the Detroit Lions and with the point spread the Eagles are getting +1 point.
Neither team gives us much to lean on in terms of against the spread numbers. The Eagles are an awful 0-7 ATS after a double-digit home loss, but are a solid 5-2 ATS in their last seven road contests. Detroit is just 3-7 ATS over their last 10 games, overall, and an uninspiring 1 -5 ATS in six games following a win.
There are whispers that Chip Kelly and the Eagles "hate each other" and it'd be easy to go with Detroit's momentum right now. The Lions are also at home and their defense has been flat out stingy the past two games. That being said, of the two, only the Eagles have a real shot at the playoffs. They're just 4-6, but a win would get them back within a game of the NFC East title, as sad as that is to hear.
I want to believe the Eagles want it more and are the better team, but I just don't. Detroit is at home and is playing better.

I like the Lions straight up and to beat this tiny spread

.