The St. Louis Blues handled their first round opponent, the Minnesota Wild, in four games, winning the series in five. All of their wins were by one goal and two of those wins occurred in OT. Their one loss occurred when they were shutout and the Wild scored two. The Nashville Predators pretty much stunned everyone by beating the Chicago Blackhawks in four games. In their round one series, Nashville outscored Chicago 13-3 and shutout the Blackhawks in the first two games. Neither of these teams was expected to be in round two. Here is our Blues play Predators 2017 Stanley Cup round two pick.
The Teams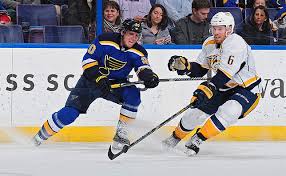 The Blues have sound special team and can boast of having the third-ranked penalty kill while putting the eighth-rated power play. The team's goals against and goals for are both 12th in the NHL. Left wings Jaden Schwartz and Alexander Steen each have two goals with Schwartz holding the team-lead in points with five. Steen is second with four points. Center Patrik Berglund has three assists, while center Vladimir Sobotka and right wing Vladimir Tarasenko each have one goal and two assists each.
Goalie Jake Allen (4-1) has played well for St. Louis. He has a save percentage of .956 and a goals against average of 1.47. He's been hot in goal and needs to continue in this manner.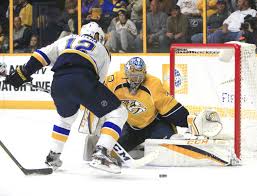 Nashville's regular season team stats are not impressive as they are average in everyway. But against Chicago, this team excelled. Centers Ryan Johansen and Filip Forsberg played well in the series with the Blackhawks. Johansen has six points and Forsberg. Forsberg is tied with four other players for the lead in goals with two. Both Johansen and Forsberg are +7, while right wing Viktor Arvidsson, who has for points, is at +8. This is a solid team that can put the heat on goaltenders.
In goal Pekka Rinne (4-0) has been spectacular. Rinne has a save percentage of .976 and has a 0.70 GAA. He's notched two shutouts.
St. Louis and Predators Keys
Blues PK can keep them in series
Predators Johansen and Forsberg offer solid efficiency and performance
Goaltender Rinne is the best thus far
Goalie Allen also had a fine series
Schwartz may breakout for the Blues
Schedule
Game 1: Predators at Blues, Wednesday, April 26, 8 p.m.
Game 2: Predators at Blues, Friday, April 28, 8 p.m.
Game 3: Blues at Predators, Sunday, April 30, 3 p.m.
Game 4: Blues at Predators, Tuesday, May 2, 9:30 p.m.
Game 5: Predators at Blues, Friday, May 5, TBD*
Game 6: Blues at Predators, Sunday, May 7, TBD*
Game 7: Predators at Blues, Tuesday, May 9, TBD*
*If necessary
Blues Play Predators 2017 Stanley Cup Round Two Pick
This looks like a close, six-game series. We do like Nashville's goaltending. But we also like the St. Louis skaters, as we the Blues have a deeper bench. Which goalie will make a series-changing mistake? We think that determine the outcome of this series. Our Blues play Predators 2017 Stanley Cup round two pick is Nashville in six games.
Blues Play Predators 2017 Stanley Cup Round Two Pick: Nashville in six