NFL Picks
NFL Pick: New York Jets at Houston Texans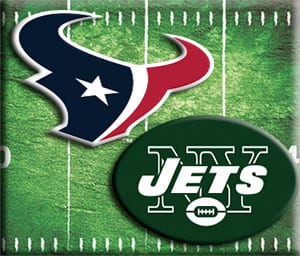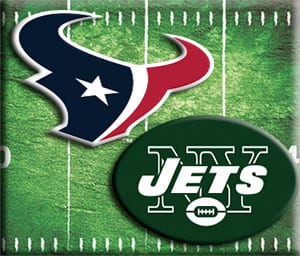 The AFC wild card race is alive and well in week 11, as the New York Jets head to Houston to battle the Texans. This is a massive game for both sides, as the 5-4 Jets need to lock up one of two wild card spots with the AFC East largely in hand (the Patriots sit in first at 9-0). Houston is arguably just as desperate, but with the Colts just 4-5 atop the AFC South, the 4-5 Texans have a much easier path to the playoffs: they just need to be less worse than their shaky division. In week 11, we get to see which team wants it more.
Matchup History
This is far from a storied series, as these two AFC foes have met just six times and the Jets have won every game but one. They last collided in 2012, where the Texans won their only game of the series, a 23-17 nail biter at MetLife Stadium. The tables are turned a bit three years later, as Gang Green enters Houston to try to return the favor and notch their sixth win out of seven tries. A lot is different for both sides since these two squads last met, but J.J. Watt still roams the trenches and New York again has Darrelle Revis in their corner.
New York Jets Preview (-2.5)
There is no doubt that the Jets are the better team on paper. Before losing in heart-breaking fashion to the Bills last week, New York was a strong 5-3 and even pushed the undefeated Patriots to the brink of a loss. Ryan Fitzpatrick has enjoyed a stellar season and has helped the Jets to 24 points per game on offense, while the return of Revis Island has also turned the Jets back into a fairly stingy defense. Chris Ivory is the real key for New York's offense, though, as his physical running style can take over games and punish opponents. It could be difficult for him to get going on the road against a Texans defense that has really stepped up their game lately, but on paper he just might give them the edge they need.
Jets-Texans preview: Why this game for Darrelle Revis will be different from all the others. #nyj https://t.co/UzDeyspQsf

— Rich Cimini (@RichCimini) November 22, 2015
Houston Texans Preview (+2.5)
It might be a miracle that the Texans still have a shot at the playoffs – let alone their division. The rest of the teams in the AFC South are mitigated disasters and while the Texans have endured their own hardships, here they are, ready to get back to .500 football. Whether or not they get there is to be determined this week, but it would be quite impressive if they could do it without Arian Foster (torn Achilles) and Brian Hoyer (concussion). Their odds surely take a hit even at home with T.J. Yates under center, while a banged up DeAndre Hopkins remains their only elite option in the entire offense. Houston's saving grace this week could be their suddenly elite defense, which stifled the Bengals in a massive road win last week and through their past 10 quarters haven't allowed a single touchdown. If that streak runs through week 11, as well, the Texans could be talking about their third straight victory.
The Pick
The NFL Moneyline odds at 5Dimes has the NY Jets at -190 and with the point spread the Houston Texans are getting +3.5 points.
Nothing about Houston is plausible right now, as they have every reason to cave against what looks like a better team in a situation where the tension is going to be at an all-time high. A loss this week could very well cripple a once promising Jets team, while a win would probably give the Texans sole possession of first place (Indy is on the road against the Falcons).
One interesting note is that Houston has come down a bit ATS following a win (just 4-12-1 in their last 17 games after a victory), while the Jets have fared well lately ATS on the road (4-1-1 in last six tries). None of that helps paint a clearer picture, as this matchup is obviously tough to call with such a small spread and so much on the line.
Ultimately, the Jets have more to lose and are the more talented team. A sliver of revenge for Ryan Fitzpatrick against his former team only helps as

the Jets win and cover this week

.