NFL Picks
Los Angeles Chargers vs. New York Jets on MNF Week 9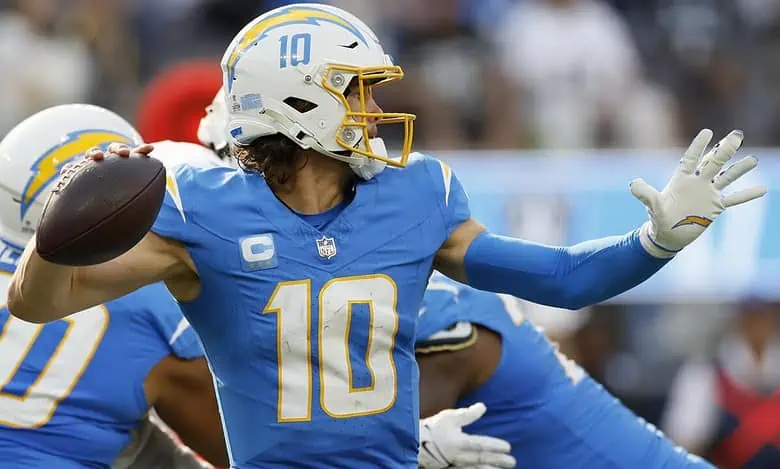 Week 9 of the NFL season is set to wrap up on Monday Night Football with a very interesting matchup. The Los Angeles Chargers are set to visit the New York Jets and both of these teams need a win in the biggest way. 
Los Angeles is coming into this game with a record of 3-4, and they have been a pretty big disappointment to begin the year. The Chargers are coming into this game with momentum after blowing out the Chicago Bears in Week 8.
The New York Jets have won three straight games, and they have emerged as a real player in the AFC Playoff race. New York is currently sitting at 4-3 on the year, and they have been a pleasant surprise. 
The Chargers are 3.5-point road betting favorites over the New York Jets on Monday Night Football. 
Chargers Want to Score
The Los Angeles Chargers just put up 30 points in their most recent win, and they can get it done in a number of ways. Running back Austin Ekeler is one of the most talented in the league, but he can also make plays in the passing game. 
Quarterback Justin Herbert is playing through an injury, but he has still thrown for 1,890 yards and 13 touchdowns this season. Herbert isn't afraid to take chances, but he can't afford to turn the ball over in this game. 
There are some major concerns on defense for the Chargers, but they do have a great pass rush. Look for the Chargers to try to get pressure on Zach Wilson on Monday night. 
Jets Doing it With Defense
The New York Jets have an extremely tough defense, and that unit is always looking to take over the game. New York is allowing just 18.4 points per game, and that secondary shuts down everyone. 
While that defense is going to be tested in a big way on Monday Night Football, getting pressure on Justin Herbert will be a key. New York can't rely on the offense to do much of anything as they are scoring just 18.0 points per game. 
Quarterback Zach Wilson has thrown for just 1,337 yards this season, and he is completing just 58 percent of his passes. Running back Breece Hall is having a big season, and he will get the ball a ton in this one. 
Chargers Get Huge Win
The New York Jets have been able to shut down teams over the last three weeks, but it's hard to stop the Chargers. New York doesn't have an offense that can keep pace, and eventually they are going to fall behind. 
This Chargers team is finally starting to get healthy, and they are one of the most talented teams in the league. Look for this offense to have a big game on Monday night as they will find some holes in the Jets offense. 
Bet the Los Angeles Chargers -3.5 as they are going to go on the road and pick up a massive win over the New York Jets on Monday night.