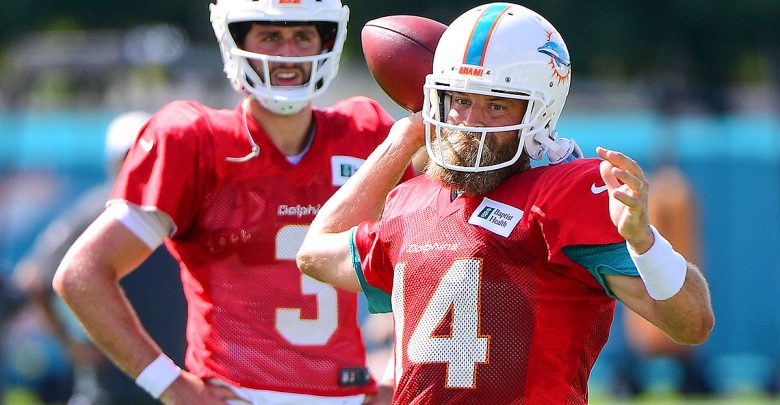 The Miami Dolphins and Jacksonville Jaguars are both heading into their Thursday night matchup coming off losses. These Florida teams are scratching their heads with their rosters.
Jacksonville has not won a game this preseason and suffered ugly losses to the Baltimore Ravens and the Philadelphia Eagles. Nick Foles has yet to take a snap due to a nagging elbow injury that manifested during his tenure in Philadelphia.
The Miami Dolphins came up short against the Tampa Bay Buccaneers in week two but won their week one matchup against the Atlanta Falcons.
The moneyline has Miami at -160 and Jacksonville at +140. The over/under for this contest is set at 36.5, and the Dolphins are favored by three points.
No Starters Yet
The Jacksonville Jaguars made a splash this offseason in acquiring Super Bowl MVP Nick Foles to fill their quarterback position. With the return of Marqise Lee alongside Dede Westbrook, the receiving core for the Jags is sound. Like Foles, standout running back Leonard Fournette has not yet taken a snap this preseason. The Jaguars are being cautious with Fournette, who was crippled with a hamstring injury for much of last year.
Head Coach Doug Marrone said previously that week three was the time to play his starters, but no starter has been named yet at quarterback. If Foles sits out, Gardner Minshew would most likely get the nod as he went 19/29 with 202 yards in their week two matchup against the Eagles.
Fitzpatrick, Rosen in a Healthy Battle
The Miami Dolphins had a busy offseason. The Dolphins moved on from the Ryan Tannehill era (trading him to Tennessee), and signed savvy veteran quarterback Ryan Fitzpatrick and traded for second-year quarterback Josh Rosen.
Rosen got the start in their matchup against the Buccaneers in week two and finished the game 10/18 for 102 yards and made himself look like a capable facilitator. While still competing for the starting job, Fitzpatrick is expected to get the start Thursday night. It will be an intriguing quarterback battle heading into the regular season.
While the offense has its questions, the Dolphins defense will still have to wait on their All-Pro safety Reshad Jones. Jones has been suffering from a right foot injury, but managed to return to practice on Monday and participate in some individual drills. While it would be nice to get a couple of snaps and help this defense out, it looks like Miami will have to wait until the regular season for Jones to play.
Dolphins Win at Home
Jacksonville is still ironing out the kinks in their roster as they have been working through injuries. Miami has high expectations for both Fitzpatrick and Rosen. I think the quarterback duo for Miami will prove to be too much for Jacksonville. I like the Dolphins at -3 to secure the victory.