NFL Picks
NFL Pick: Green Bay Packers at Oakland Raiders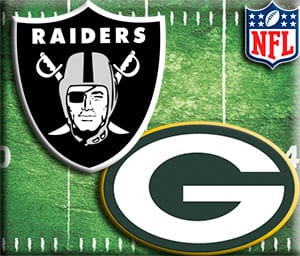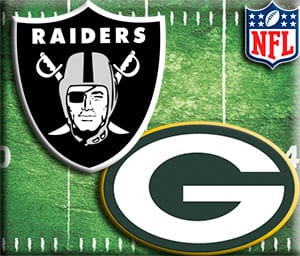 The Green Bay Packers head to the Black Hole in week 15, where they'll battle the Oakland Raiders for just the 13th time in league history. This isn't your regular Raiders squad, though, as Aaron Rodgers and co. may have to brace for a shootout with young gunslinger, Derek Carr.
Matchup History
It's quality, not quantity, when you consider the history of some teams facing each other. Oakland and Green Bay have only battled 12 times in the past, but they faced off in the Super Bowl back in 1968 and have exchanged blows ever since, with the Packers holding a mild 7-5 edge. It's been all Green Bay for years, though, as the Packers will head out West to take Oakland down for the seventh straight game. These two teams don't know each other at all as they stand, as they haven't went to war since 2011. The clashes have been rather one-sided, too, with the Packers blowing the Raiders out in each of the last three meetings.
Packers Preview (-3)
Green Bay seems like a team reborn two weeks after a miracle hail mary saved them in Detroit, and now they're atop the NFC North with faint hopes of earning a first round bye. That probably won't be happening, but the Packers still have three more chances during the regular season to tune up as they try to put the clamps down on another division title. Getting one step closer on the road against a better than advertised Oakland squad won't be easy, but then again, the Raiders are probably 6-7 for a reason.
Raiders Preview (+3)
Oakland has been rather impressive in Jack Del Rio's first season, but they've also been nothing if not inconsistent. Oakland's up and down ways will ultimately lead to them missing out of the playoffs, but they've also picked themselves back up after a brief lull and appear to have a true up and coming gamer in quarterback Derek Carr. Their defense is also clearly on the rise after being all over Brock Osweiler in a big win over the Broncos last week, and another performance like that could very well have them looking at a respectable 7-7 record after week 14. On paper they're a worthy opponent for the Packers, but the key may be Latavius Murray and a lethargic rushing attack.
The NFL moneyline odds at the WagerWeb site is at -200 for the Packers and with the spread the Raiders are getting 3.5 points with the point spread.
The Pick
Every part of you (if you're not a Packers fan) would love to see a fiery shootout that ends with the silver and black getting back  to .500 and holding on to a glimmer of hope for the playoffs. They have to know it's the end of the road, though, while at least for now the Packers remain the better team. If Eddie Lacy and Green Bay's rushing attack is half as dominant as they were a week ago, the results should show that again this week.
The Packers have been rather strong against the spread with a 6-2 mark in their last eight road games, as well as a nice 7-3 record ATS following a win. Oakland's against the spread numbers haven't been nearly as impressive (just 5-13-1 ATS following a win).
Oakland is a very dangerous team and has played games close even in losses. Because of that I see them keeping it close, but I'll take the Packers straight up and to barely beat the spread.