NFL Picks
NFL Pick: Green Bay Packers at Arizona Cardinals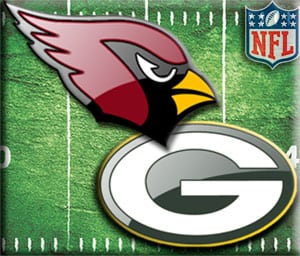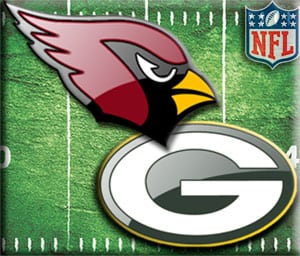 The Green Bay Packers return to the desert to take on the Arizona Cardinals this week, in a rematch of a game that went down just three weeks ago. This NFC showdown is one of three second round rematches this week, but on paper doesn't feel like it will go any differently the second time around. Green Bay's offensive outburst last week could suggest that's inaccurate, however.
Matchup History
We all remember their last showdown, a 38-8 drubbing by the Cards in Arizona just three weeks ago. There is a decent amount of history here beyond the most recent game, however, with Arizon and Green Bay facing off 73 times and the Packers owning a strong 45-24-4 series lead. The Cardinals have the upper hand in terms of recent success, but the Pack have found a way to secure wins in five of the last eight meetings. The two sides will be meeting for the third time in post-season play, however, with this weekend's game breaking a 1-1 tie. Green Bay blew out the Cardinals at home back in 1982, while the Cardinals won an overtime thriller at home in 2010, 51-45.
Packers Preview (+7)
Aaron Rodgers and co. have really been on a roller coast ride for much of 2015, as they got off to a sick 6-0 start, slumped miserably, barely saved their season with a Hail Mary in Detroit and then limped into the playoffs behind two straight losses. They lost the NFC North in the process and along with that, the respect of much of the league's fan base. They were largely counted out on the road last week against the Redskins, until showing up in the final three quarters and dropping 35 points in a fairly impressive win. Whether they can prolong that momentum enough to make it to the NFC title game for the second straight year, is very much in doubt.
Last time the Packers & Cardinals met in the postseason, it was the highest-scoring game in postseason history. pic.twitter.com/zIkQ4ZsMQG

— NFL on ESPN (@ESPNNFL) January 16, 2016
Cardinals Preview (-7)
Arizona caved in week 17 with a shot at the #1 overall seed in the NFC, but they remain a top-two team in the conference and very well could actually be the best team in all of football. Their strong 13-3 run has felt a little magical at times, but really this team picked up right where it left off last year before losing Carson Palmer for the season with a torn ACL. Palmer has zero playoff wins on his resume but enjoyed arguably his best season yet and guides a very balanced and potent Arizona offense into a big Divisional Round playoff game. The Cardinals are equally impressive on defense, too, but they'll have to prove they can remain an elite unit without defensive back Tyrann Mathieu (torn ACL) roaming the backfield.
The NFL moneyline odds at most US sportsbooks is at -335 for the Cards and with spread the Packs are getting +7.5 points.
The Pick
Full disclosure: this writer is a Packers fan. I hold out hope that Green Bay can accomplish the unlikely this weekend, but I realize a win in the desert is not very realistic. The Packers will largely just be trying to compete in this one, as they were completely over-matched last time these two sides met up. If it wasn't Aaron Rodgers struggling with Arizona's tight pass coverage, it was his banged up offensive line having issues keeping him standing upright. The offense did look to get back in a groove last week, but even if A-Rod and co. really are clicking suddenly, one has to wonder if their middle of the road defense can slow both Palmer's passing game and impressive rookie rusher David Johnson's ground attack. The early consensus is it's highly unlikely.
I don't really need any against the spread magic to fuel my pick, but it's worth noting the Packers are now 4-1 ATS in their last five road games. The home team is 5-1 ATS in the last six meetings between these two teams, however.
Ultimately I think the Packers are better than what we saw the first time around and they hang tight to beat the spread. Arizona is the better team and is the right straight up pick, however.