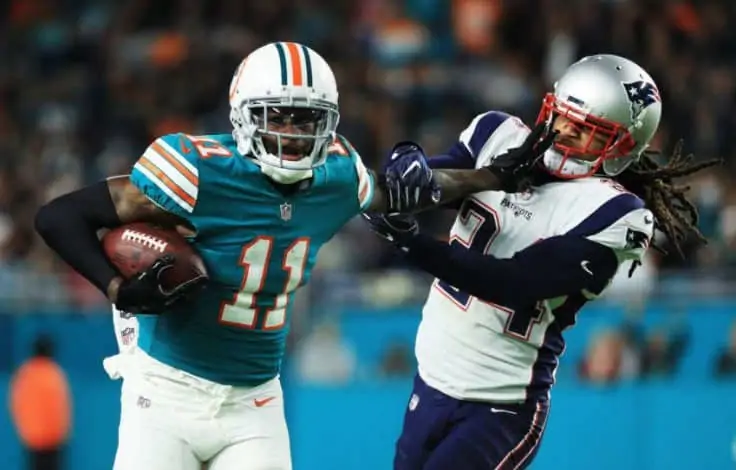 The NFL week 18 Patriots at Dolphins game is interesting with New England and Buffalo both having afternoon kickoffs. The Bills can clinch the AFC East and a home game in the first round of the playoffs with a win over the Jets, and although a New York upset is unlikely New England has to play as such. The Pats' can take the division and get the game in Foxborough next week with a win and a Buffalo loss.
The Dolphins (8-8) have nothing to play for but pride, hanging tough this season but ultimately eliminated from postseason contention after last week's 34-3 at Tennessee snapped a 7-game win streak. Miami is a +6 point underdog on Sunday, a number which has value considering the Dolphins have won five of the last eight straight up head to head.
How Hard Does New England Go?
A Jets upset win would give the Patriots a lot of incentive, but that's also highly unlikely with New York being a +16.5 underdog. If the Bills get up 20-30 points on New York does Bill Belichick start to pull back the reins a bit and rest key players for next week? Of course the Dolphins could help expedite that process if they build an early lead as well.
Knowing Belichick, he likely wants to go into the postseason with momentum as falling to the Dolphins would mean losses in three of the last four of the regular season. The Patriots looked solid on both sides of the ball last week in a 50-10 win over the Jaguars, but Jacksonville has won three games in two years.
What's also concerning for the Patriots is their recent futility against Miami which includes a 17-16 home loss in the season opener. New England QB Mac Jones was 29/39 for 281 yards and a TD in his first NFL action, and he's a much better QB at this point in his rookie season. Jones hit 22/30 passes with 3 TDs last week but once again…Jaguars.
Dolphins Building for Next Year
There are things to build on in Brian Flores' third season in Miami, even though at 8-8 there is a bit of regression from last year's 10-6 mark. The Dolphins showed resiliency in bouncing back from a 1-7 start and putting together a 7-game win streak and nothing would cap that off like a season sweep against the organization that gave Flores his start in the NFL.
Another reason for Dolphins fans to be optimistic is Tua Tagovailoa ready to peak next year in his 3rd NFL season after completing 67.8% of his passes. Tagovailoa also has 10 INTs this year though and looked overwhelmed going 18/38 for just 205 yards with an INT last week against Tennessee. Belichick has a history of preying on young QBs, but Tagovailoa was 16/27 for 202 yards with 1/1 in the season opener.
Free Week 18 Patriots at Dolphins Betting Pick
Tagovailoa is the subject of offseason trade rumors – possibly involving Deshaun Watson – which makes the Patriots game an audition of sorts for the Miami QB. This game is somewhat hard to handicap considering a lot of it has to do with how the Buffalo / Jets game plays out, but the +6 is just too much for all the situations involved.
Patriots 20 – Dolphins 27
Free Pick: Dolphins +6