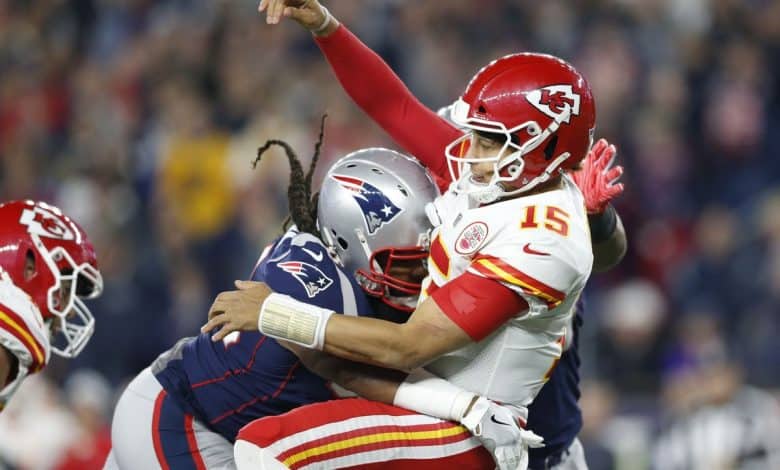 It's a tough situation for New England coming into week 4 Patriots at Chiefs betting. Getting a win against Kansas City, originally schedule for Sunday afternoon, was going to be tough enough, but after some positive CoVID tests this game is moved to Monday Night Football from Arrowhead Stadium.
The Pats' will go into battle with Brian Hoyer instead of Cam Newton, who has gone on the COVID injured list. Instead of catching Kansas City on a short week after their domination of Baltimore on Monday night, the Chiefs are well-rested for this early 7:05 EST start. Oddsmakers have KC as -10.5 favorites, but this one looks like it could get ugly.
Can Pats' Ramp Up Defensive Effort?
Without Cam Newton, New England has little to no chance of keeping up with Kansas City in a shootout. The best chance for the Patriots to keep Monday night's game close is to get in a defensive standoff. The betting total is 48.5 for this meeting, even though three of the last four matchups have produced 67+ combined points.
New England has a big loss with Newton sent to the Covid list. The free agent QB has led the Patriots to a 2-1 start, Newton had just one TD pass on the year, but had put up four scores on the ground. Brian Hoyer spent part of 2017 with the Patriots and the whole 2018 season, before coming back in the offseason. The 10+ year veteran threw 65 passes a year ago with the Colts with 4 TD and 4 INT.
New England's only chance here is to try and win this one 20-17. The only problem with that is the Chiefs The problem with that is the Seahawks scoring 35 in week two and Las Vegas putting up 20 last week. The New England offense has averaged 33 ppg the last two, but that's also with Newton in the lineup.
Kansas City Sitting Pretty
The Chiefs get a break by not having to do a quick turnaround after their 34-20 win over Baltimore last Monday night. KC's improved defense gets to face Hoyer instead of Newton, after holding 2019 MVP Lamar Jackson to 97 yards passing last week.
Kansas City comes into Patriots at Chiefs betting starting the year 3-0. Their only struggle of the season was a 23-20 OT win over the Chargers on the road. KC beat Baltimore by two TD's on the road last week and beat Houston 34-20 in their only home game thus far in the season opener.
Patrick Mahomes gets the New England defense on Monday night, a unit that allowed Derek Carr a 24/32 game with 2 TD and 0 INT last week and served up a 21/28, 5 TD game to Russell Wilson the week before. Mahomes is licking his chops at those numbers.
Chiefs at Patriots Betting Free Pick
There's just no way to back New England in this one. The spread would be a lean play on Kansas City even with Newton under center for the Patriots, but it's definitely looking like a KC blowout now. Too much COVID on one team, and too much talent on the other.
Chiefs 41 Patriots 23

Free Pick: Chiefs -10.5