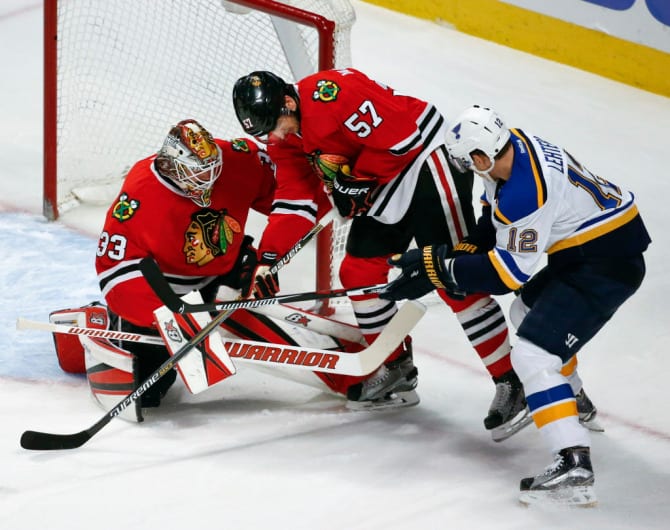 A deflected puck off the skate of Chicago defenseman Trevor van Riemsdyk in OT was the only goal of game one and it gave St. Louis an early 1-0 lead in this hard fought series. Despite the win, Blues coach Ken Hitchcock told the media the forecast for game two was pain as he remarked about his physical team, ""We had (41) hits, we're going to have to get it into the 70s." Our Blues Blackhawks Game 2 Betting Pick reflects that promise of pressure.
Did Hitchcock send an intimidating message to Chicago, or did he stir the hornets nest of the team that has won 3 of the last 6 Stanley Cups? After all,the Blackhawks were without star defenseman Duncan Keith (who returns Friday night) and goaltender Corey Crawford was starting just his third game in a month after returning from injury yet the game ended just 1-0 on what could be called a fluke goal. Either way the stage is set for great theater at the Scottrade Center as the Blues Blackhawks Game 2 Betting Pick lines are favoring both teams (Chicago -135, St. Louis -125).
Chicago Overview
The Blackhawks had plenty of chances to win game one, sending 35 shots towards Blues goaltender Brian Elliott compared to facing just 18. Chicago launched 7 SOG in OT compared to just 2 from St. Louis, half of which of course found the back of the net. The Blackhawks even went into a power play early in the extra period but were unable to capitalize. Although Coach Joel Quenneville will never admit it, Wednesday night's game could be seen as a throwaway tilt for Chicago in dealing with the absence of Keith, the rust of Crawford, and not knowing until game time whether Andrew Ladd would return from visiting his wife who was in labor. That being said, Friday night is back to 'full strength' and Chicago needs to counter 'speed and skill' with St. Louis' 'pound and pummel' approach.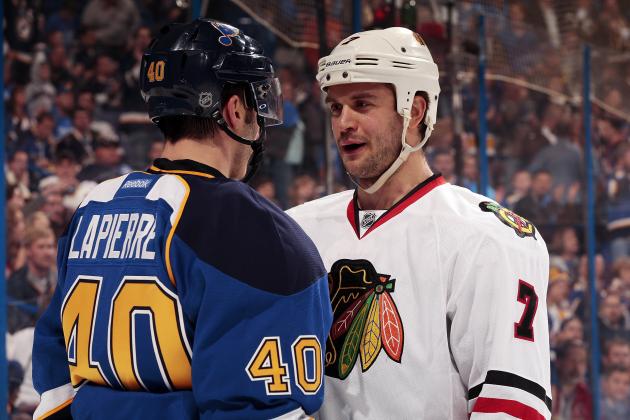 St. Louis Overview
The Blues had to have game one for as much their own psyche as for maintaining home ice advantage. Chicago has knocked out St. Louis 8 of the 11 previous times they've met in the postseason. It's a good sign that the Blues aren't getting complacent with the win, promising to ramp up their physicality in game two. It remains to be seen how strong that strategy will be however. If you remember after Chicago outlasted Anaheim in 7 games in last year's Western Conference Finals, Ducks' defenseman Ryan Kesler told the media when describing his teams punishing approach, "no human can withstand that many hits'.
Blues Blackhawks Game 2 Betting Pick Overview
Obviously St. Louis was good enough to win Wednesday night and have actually taken the last 3 meetings with Chicago. In fact, the Blackhawks (+1.5) line looks good for the simple fact that 4 of 6 meetings this year between the teams have gone to OT. The Blues Blackhawks Game 2 Betting Pick trends also point towards a higher scoring game against the goal total of 5:
Over is 7-1-4 in Blackhawks last 12 after allowing 2 goals or less in their previous game.
Over is 10-2-5 in Blackhawks last 17 games playing on 1 days rest.
Over is 8-2-6 in Blackhawks last 16 when their opponent allows 2 goals or less in their previous game.
Over is 7-2-1 in Blackhawks last 10 Conference Quarterfinals games.
Over is 8-0-1 in Blues last 9 games playing on 1 days rest.
Over is 7-3 in Blues last 10 when their opponent scores 2 goals or less in their previous game.
Still, the St.Louis rhetoric of coming out more physical even though they won game one leaves a bad taste. Chicago was not only going to be fired up with the return of a recharged Duncan Keith but now they've got 'bulletin board' material to add extra fuel.
As Quenneville put it when he heard about Hitchcock's plan to ramp up the hits, ""I'm not sure about that comment. I hope there's some validity to it,"
Pick: Blackhawks -135