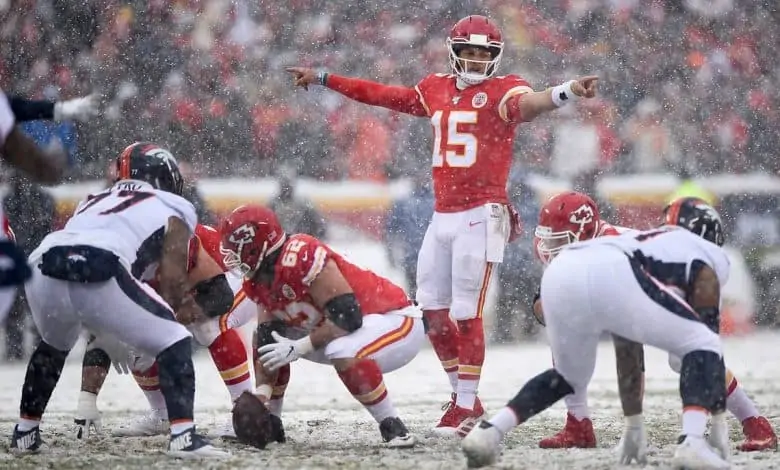 Kansas City comes into NFL week 7 Chiefs at Broncos betting as a -7 point road underdog. Seems like an open and shut case for a KC wager, but that line is down from a -9.5 open and the total has plunged from 49.5 to 44 on the forecast of some inclement weather coming to Mile High Stadium. Will temperatures in the teens and a 40% chance of snow derail the Chiefs offense on Sunday?
KC did have a nice bounce back last week, beating Buffalo 26-17 a game after suffering their first defeat of the season, 32-40 at home to Las Vegas. Denver has some momentum too though, posting a gritty 18-12 win in New England in week six. The Chiefs have covered the number in 8 of the last 9 meetings in this AFC West rivalry, including winning both games last season by 20+ points.
Will Weather Disrupt KC Offense?
The weather forecast is definitely moving the line in NFL week 7 Chiefs at Broncos betting, but can Mother Nature as a defensive coordinator be the only one to stop Patrick Mahomes and the Chiefs offense? The odds seem against that happening, as Mahomes was 27/34 with 340 yards against Denver on a snowy, 24° day at Arrowhead last season. Mahomes is 4-0 in his career against the Broncos, and the Chiefs have won 9 games in a row SU vs. Denver.
That's not to say the Chiefs haven't looked a bit human the last two weeks. Las Vegas got 347 yard, 3 TD performance from Derek Carr to get the week 5 win, and Kansas City prodded along in a 26-17 win at Buffalo last week. Mahomes was still very good against the Bills though, going 21/26 for 225 and 2 TD.
KC may have a tough time of it going against an improving Denver defense though. The Broncos held New England to just 1 TD last week, and won despite not scoring a TD themselves. The Patriots did have over 100 yards on the ground though, the fourth time in five games a Broncos opponent has gone over 100 yards on the ground. Clyde Edwards-Helaire ran for 161 yards against Buffalo, an important stat if the weather does get inclement.
Denver Must Find Some Offense
The Broncos got the win last week in New England, a place that is usually very tough to escape victorious. How good can Denver feel after tallying just six field goals en route to their 18-12 victory though? Denver could have some excuses for the poor offensive showing, as Drew Lock returned after missing the last 2+ games with a shoulder injury, going just 10/24 with 189 yards and 2 INT.
The Broncos offense looked good in a 37-28 win over the Jets, but that's the norm vs. arguably the worst team in the NFL. Denver hasn't scored more than 21 points in any of their other four games – Kansas City hasn't been held to under 23 in any of their games this season.
The Chiefs secondary was torched by Carr a couple weeks ago, but held Buffalo to only 122 yards through the air last week. The Broncos should get Melvin Gordon back this week (prob-illness), but still rank 25th in the league in rush yards and 29th in the passing game. If the Chiefs offense has a tough time getting going in the cold and snow, what's that going to do to an already-mediocre Denver offense?
NFL Week 7 Chiefs at Broncos Betting Free Pick
Weather could be a blessing for this game, driving the line down in a contest the Chiefs should dominate. 61% of the betting public is on Kansas City, which is lower than expected even though the Chiefs will be going on the road for the second straight week. The last time KC played their second consecutive road game, they handed Baltimore their first loss of the season.
Chiefs 31 – Broncos 13
Free Pick: Chiefs -7