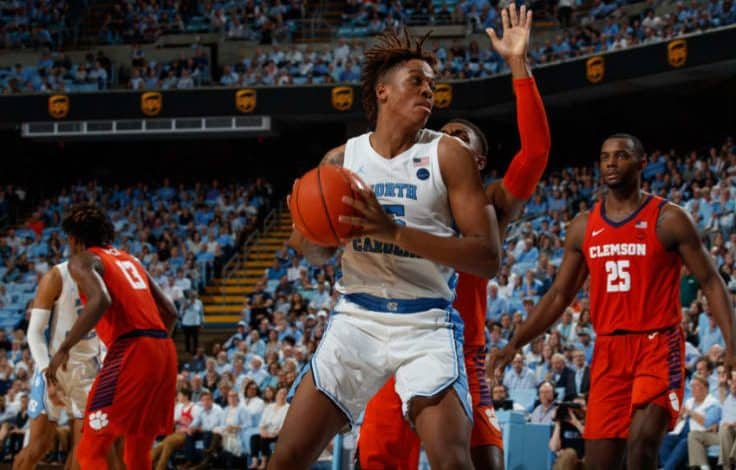 The radar is up for the February 2nd North Carolina at Clemson game, as oddsmakers have set the streaking Tar Heels as just -2.5 favorites. UNC has won 6 of 7, and visits a Tigers team that just lost by 26 points on the road at Duke on Saturday.
Is this game a trap, or does Clemson get the edge coming back home where they are 6-1 on the year? The Tigers can play clamp down defense at times, as evidence by their 54-50 home win over Louisville on January 27th as -1.5 favorites. Even so, it looks like Clemson is in a free fall, while Roy Williams and Co. are getting hot at the right time. So why is the spread so low?
Tar Heels Try to Avoid a Letdown
This is the type of foreshadowing game that makes bettors lose sleep because North Carolina's next game is a visit to arch rival Duke on Saturday. The classic 'look ahead' is real, especially when you're up against an opponent that has been in a little bit of a slump and doesn't appear to pose a strong threat.
The Tar Heels can't get complacent despite being 6-1 since January 1st and winners of their last three. Louisville is 11-4 on the year, but they couldn't do anything in scoring just 50 points in Clemson's last home game. Carlik Jones, one of the best scorers in the conference, was held to just 11 points in that game as Louisville shot 32% from the floor.
The Tar Heels think they're different heading into the February 2nd North Carolina at Clemson pick however. UNC has put up 75+ in five straight games, averaging 79.4 ppg over that span. 6'10" Armando Bacot is a load, and he's stepped up with 17 points in three straight. Bacot and fellow 6'10" starter Garrison Brooks have helped UNC post the #1 rebound rate in the ACC, and are #3 in the nation in offensive boards.
Clemson Have Enough on the Interior?
It is a tough matchup for Clemson, as the mountainous interior tandem of Bacot and Brooks combined for 33 points and 16 rebounds in last year's meeting. The thing is, the Tigers still pulled off a 79-76 win, outscoring NC 50-37 in the 2nd half and OT.
Last year's Clemson win snapped a 59 game losing streak in Chapel Hill and came as just +3 point underdogs. What has happened to the team this year though? At one time Brad Brownell had his team to 9-1 and up to #12 in the country, but they've dropped 4 of the last 5 – and not in close games.
The Tigers have dropped a 35 point game to Virginia, fell by 18 at Virginia Tech, 19 at Florida State and the big Duke loss over the weekend. Opponents scored at least 79 points in all of those losses against this supposed Clemson defense that is #2 in the ACC in points/game. Aamir Simms is the only Clemson player averaging in double figures,
Free February 2nd North Carolina at Clemson Pick
The only thing to determine in this matchup is if the -2.5 spread is indeed a trap? NC looks like they should dominate this game, especially to avenge last year's loss to Clemson that was their first in 59 home games vs. the Tigers.
Clemson's defense can go into shutdown mode, but that's more against teams that rely on mid-range to perimeter shots. The Tar Heels have two giants on the inside that should dominate – barring foul trouble. The Tigers do have about 1,200 fans in attendance, but North Carolina can silence them early. Taking the bait.
North Carolina 70 – Clemson 63
Free Pick: North Carolina -2.5
Free Pick: Under 134.5