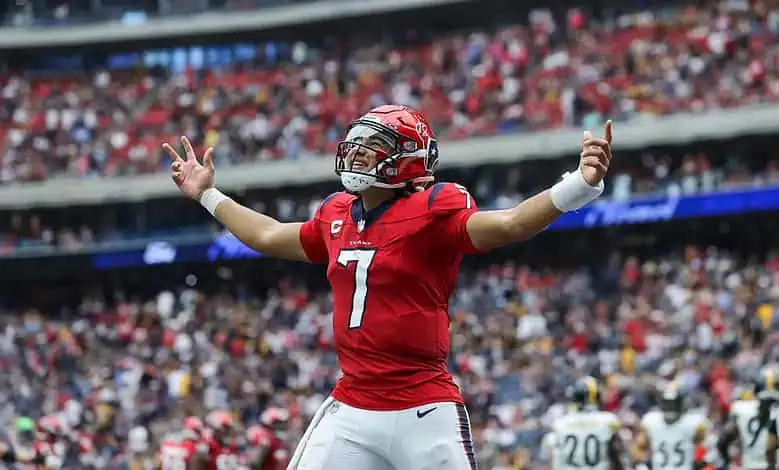 Neither Houston nor Atlanta were supposed to be very good in 2023, but one of them will be 3-2 after the week 5 Texans at Falcons betting matchup. Houston looks like a talented young squad behind first year head coach DeMeco Ryans, while Atlanta has some good skill position players as well but their .500 record seems like it will start to fade sooner rather than later.
The Texans have a little buzz right now, but it's still Atlanta that is the -2 point favorite for Sunday's meeting. Home field advantage will do that, especially considering the Falcons are 2-0 at Mercedes-Benz Stadium on the year. 63% of public betting likes the Texans to win their third straight game.
Why Houston Has Value at +2
It's almost a surprise to see Houston as the underdog in the week 5 Texans at Falcons betting matchup with how good they have looked the last two weeks. Ryans' club started off a bit shaky with a 25-9 loss at Baltimore and a 31-20 defeat to the Colts, but those are also two good teams. Since then the Texans have clicked on both sides of the ball with a 37-17 win in Jacksonville and then beating the Steelers 30-6 last week.
Even though the Texans have played solid the last two games, it's Atlanta's inefficiencies that give Houston a great chance to win Sunday's contest outright let alone cover the +2 point spread. The Falcons have scored a combined 13 points in their last two games, a 20-6 loss to Detroit and then falling 23-7 to the Jaguars – not to mention the Jacksonville loss was in London last Sunday so there are some travel issues to take into consideration as well.
Houston is playing with a lot of confidence right now, especially at the QB position where C.J. Stroud has thrown for 280+ yards and 2 TDs in each of the last three games. One thing Stroud does is not turn the ball over, setting an NFL rookie record with 0 INTs through his first 151 pass attempts.
Why Atlanta Has Value at -2
The Texans look like an easy play at +2 in week 5, and experienced NFL bettors know there are no easy picks in this league. That alone gives the Falcons value as a contrarian play.
Sure Atlanta hasn't looked great the last two weeks, but they've lost in Detroit to a good Lions team and then had to make the long jaunt across the pond to London so a lot of teams would have struggled in both of those situations. The Falcons are also back home where they've beaten the Panthers and Packers and oddsmakers seem to be taking that into account.
If Atlanta is to pull off the win in this matchup, they'll need better QB and offensive line play as well. Desmond Ridder has been sacked 11 times the last two games, not great when you're about to face a Texans team that has amped up their defense and make Steelers QB Kenny Pickett see ghosts last week.
Free Week 5 Texans at Falcons Betting Pick
So the question we have to ask ourselves before this game is if the oddsmakers are setting the bait on Houston, or making us overthink into an Atlanta play? It's possible the Falcons play better back at home, but that's also a tall order while returning from the trip to London. The Texans have momentum, and that's hard to bet against.
Free Pick: Texans +2