Free Expert Sports Picks
Saturday July 11th UFC 251 Main Card Betting
Usman v. Masvidal Headlines Inaugural Event from Fight Island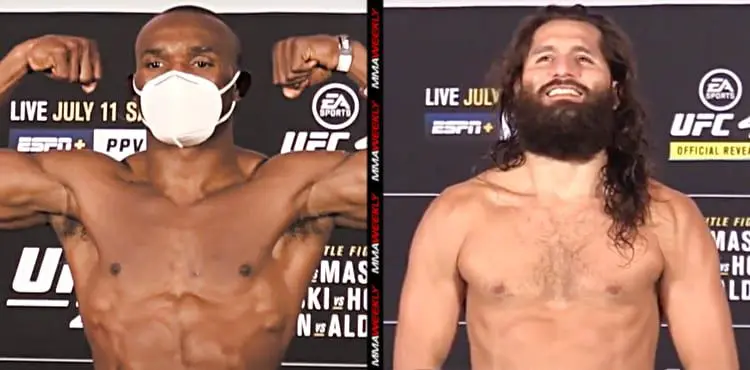 It's going to be an exciting night for UFC 251 main card betting as there are essentially three headliner fights. To be honest all five of the bouts on the main card have interesting storylines behind them so let's get to the breakdown:
Amanda Ribas (-800) vs. Paige VanZant (+500)
Women Flyweight
Paige VanZant (8-4) returns to the octagon after not fighting since a January 2019 submission win. "12 Gauge" may immediately regret that decision as she meets up with Amanda Ribas (9-1) who has gone 3-0 since joining the UFC. VanZant has battled some arm fracture issues and will be outgunned by Ribas who last fought in March of 2020.
Ribas does move up to flyweight for this bout after battling at strawweight the majority of her career. VanZant does have the motivation – or pressure – of this being the last fight on her current UFC contract. Ribas has won decisions over quality components Mackenzie Dern and Randa Markos the last two fights but this one might not get to the judges.
Pick: Ribas inside distance -105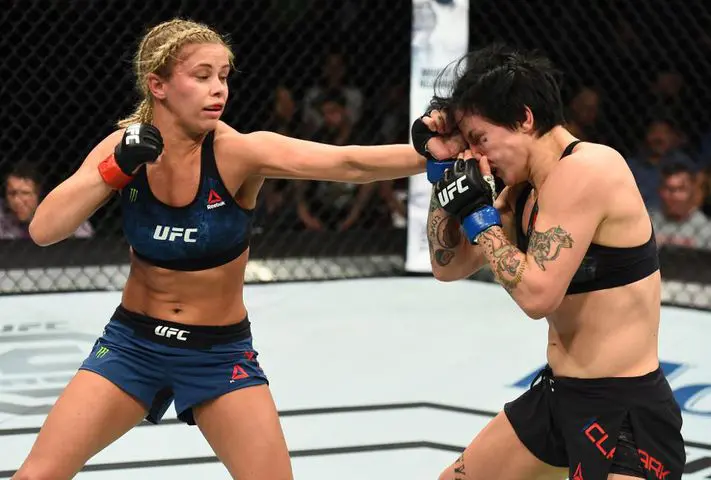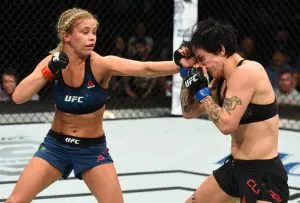 Rose Namajunas (-225) vs. Jessica Andrade (+175)
Women Strawweight
Rose Namajunas (9-4) gets a chance at redemption when she meets Jessica Andrade (20-7) for a second time. Namajunas lost the strawweight belt back in May of 2019 after being TKO'd by a slam at UFC 237. Andrade subsequently lost the belt to Weili Zhang back in August however. Even so the winner between the #2 and #3 fighters in the division should get a shot at the belt in the upcoming months so there's plenty at stake.
Namajunas seems like a strange -225 favorite for UFC 251 betting considering she lost to Andrade last time out. Namajunas had a huge edge technically in that bout but just made one costly mistake. Even so, Namajunas opted out of UFC 249 because of Covid deaths in her family and has now been out of action the last 14 months. You have to wonder where her head is at.
Pick: Andrade +175
Petr Yan (-250) vs. Jose Aldo (+195)
Bantamweight Title Bout
Jose Aldo (28-6) somehow sees himself back in the mix for a belt despite losing his last two fights both via decision. Aldo had held the featherweight belt from 2009 until back-to-back defeats to Max Holloway in 2017. Now Aldo makes the switch to bantamweight and will fight Petr Yan (14-1) for the belt that was vacated when Henry Cejudo retired.
The fact that Yan is in this fight is no surprise as he's gone 6-0 since joining the UFC. Aldo though has lost two in a row including his bantamweight debut in a decision to Marlon Moraes. Yan has ended 4 of his 6 wins early including taking down the legend Urijah Faber by kicks in December. Another great of the sport in Aldo likely faces a similar fate.
Pick: Fight does not complete 3 rounds +120
Alexander Volkanovski (-225) vs. Max Holloway (+175)
Featherweight Title Bout
Max Holloway (21-5) gets a chance to earn his featherweight title back in UFC 251 betting. It won't be easy though because Alexander Volkanovski (21-1) is the guy who took that belt via a 5-round decision win back in December. Volkanovski is an obvious favorite as he is 8-0 since joining the UFC but winning and defending the belt are two different things.
Volkanovski used a barrage of leg kicks (47%) to win the first fight. It caught Holloway somewhat off guard from the 5'6″ Volkanovski who has a 6″ leg reach disadvantage. 99% of strikes in the first meeting were also landed from distance which is why fight going the distance is -250. Volkanovski has an impressive resume, but Holloway is very battle tested and hasn't been the underdog in awhile.
Pick: Holloway +175
Kamaru Usman (-265) vs. Jorge Masvidal (+205)
Welterweight Title Bout
The last of three straight title fights sees Kamaru Usman (16-1) putting the belt on the line vs. Jorge Masvidal (35-13). Usman has blazed through the UFC since winning TUF in 2015, compiling an 11-0 record in the process. Masvidal has earned this title shot on the heels of three straight wins, all via KO. Four of Usman's last 5 wins have come via DEC.
Masvidal will also be fighting on short notice after Covid concerns caused Gilbert Burns to drop out of the match a week ago. Is Masvidal ready for a 5-round battle in the heat of Abu Dhabi? It's hard to imagine Usman falling into one of Masvidal's haymakers but he's also been preparing for Burns. Masvidal knows he's the man right now for taking this fight on short notice, but his aggressiveness could also get him in trouble.
Pick: Fight does not complete 4 full rounds (EVEN)