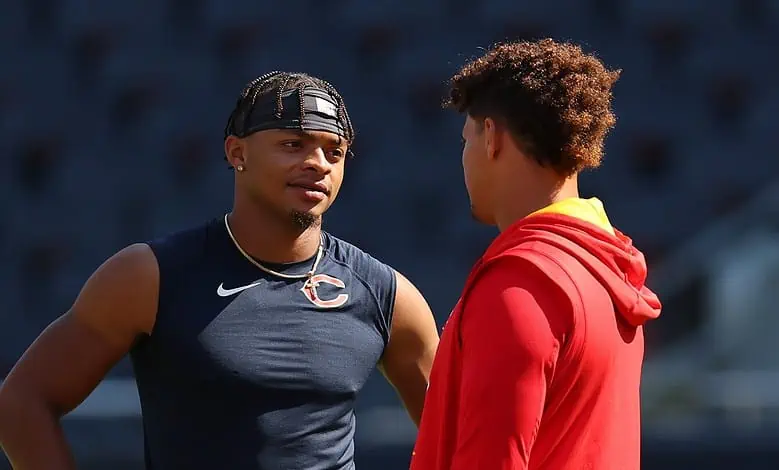 Matt Eberflus' coaching chops are going to get put to the test in the week 3 Bears at Chiefs betting matchup because it's been a wild week for Chicago. The Bears are battling a number of scandals and issues within the organization, but get no reprieve in a visit to Kansas City.
The Chiefs could probably play one of their worst games of the entire season and still come away with a victory in this spot, and oddsmakers do have them as -12.5 favorites. This could easily be a get right game for the Chiefs (1-1), but this is also a perfect spot to get caught looking ahead.
Why the Bears Have Value at +12.5
There were times when the Tom Brady led Patriots would chant "it's us against the world" even though everybody had them picked to win the Super Bowl. Chicago can say that and mean it though because there is no 0-2 team getting as much national publicity as the Bears – who can definitely play the 'chip on our shoulder' card.
Chicago has been in the news for all the wrong reasons – their defensive coordinator resigned amid an FBI raid at his house, QB Justin Fields had to have two press conferences to clear up remarks about his offensive coordinator, a 2nd string QB was cut for a couple hours, a LT could be out for the year with an injury, and to top things off over $100,000 worth of equipment was stolen this week. Those are the types of things that can make a team rally around each other.
Perhaps the main reason Chicago can cover +12.5 is because the Chiefs haven't looked like the Chiefs yet this season. They lost their opener at home 21-20 against Detroit and last week had to hold off a couple late rallies to beat Jacksonville 17-9 on the road. Plus, KC could be caught looking ahead to road trips to the Jets and Vikings the next two weeks, especially with all of the Bears' issues.
Why Kansas City Has Value at -12.5
You have to think Bears players are just mentally drained after all the media attention this past week and they don't have the experienced coaching staff to kind of right the ship – Eberflus and OC Luke Getsy are in their second year on the job and their DC just resigned. On the other side of the field, Andy Reid knows just how to exploit this.
The Bears are not only mired in controversy, they're very banged up. Chicago is missing two of their top DBs in Eddie Jackson (foot) and Kyler Gordon (hand) which isn't ideal when going up against Patrick Mahomes. The Bears also don't put pressure on the QB, ranking last in the NFL with just 1 sack in two games.
The Chiefs might also want to run this one up just to show the rest of the league they are still the team to beat. KC has faced some concerns with a one score win over the Jaguars and losing to the Lions and they may want to quiet the noise a bit.
Free Week 3 Bears at Chiefs Betting Pick
It's possible Chicago puts up a fight here because the NFL is weird, but the only way they do that is with an absolutely explosive game from Fields. It's hard to see that happen with Chicago's offensive line in disarray and with not much resistance from their defense. Cake walk for K.C.
Free Pick: Chiefs -12.5