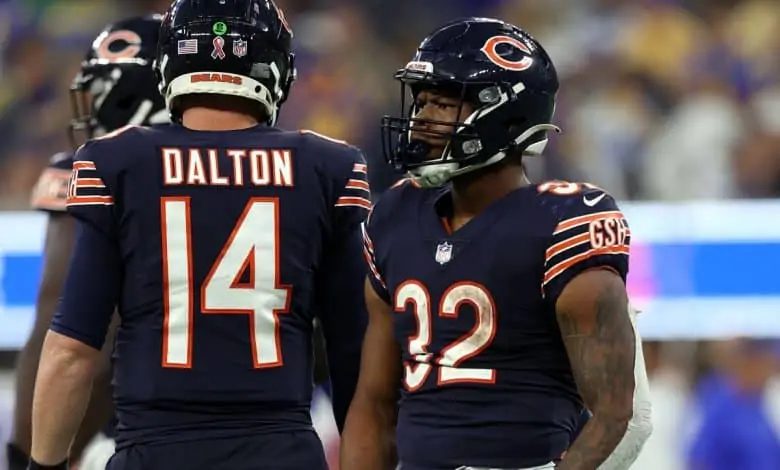 The week 2 Bengals at Bears matchup may be the "Andy Dalton Bowl" to start with, but rest assured that a bunch of angry Chicago fans are going to be calling for the Justin Fields era to commence after the first incompletion from the Red Rifle. Bengals fans get a glimpse of their past with Dalton, but also optimism for their future as Joe Burrow led the team to a season opening win over the Vikings last week.
Chicago opened as a -3 favorite in their first game with a full capacity of fans since December of 2019. There will be no home field advantage in this one though, as Chicago is getting antsy to see the electric Fields commanding the offense and thus the line has dropped to Bears -1.5. Only a slight 51% of the public is on the Bengals though.
Burrow Has Some Weapons
Should Cincinnati almost be favored in the week 2 Bengals at Bears matchup? Chicago is a team on the decline with an inexperienced secondary and a nonexistent pass rush which plays perfectly into the Bengals' strengths. Joe Burrow was 20/27 last week for 261 yards and 2 TD – and that was when he was supposed to be shaky playing his first game back after a season ending knee injury last year.
It's just one game, but the Bengals offense kind of looks scary if you're a Bears fan. Rookie Ja'Marr Chase was basically labeled a bust after a poor preseason but turned it on when it counts with 5 catches for 101 yards including a 50-yard TD grab. Tee Higgins also had 4 catches for 58 yards and TE C.J. Uzomah also had a 32-yard grab. Three Rams receivers had catches of 37+ yards on Sunday vs. the Bears secondary.
One big question coming into Sunday's game is if the Vikings offense is better than the Bears? Kirk Cousins had 351 yards and 2 TD passes vs. Cincinnati last week, but the Bengals did hold 1,500+ yard rusher Dalvin Cook to 61 yards on 20 carries in the opener.
Bears Need to Get Pressure
The best way to slow down this Cincinnati offense is to get pressure on Burrow, who did come up limping at times last week. The Vikings did sack Burrow 5 times for losses of 44 yards last week, so it's a nice time for Khalil Mack and Robert Quinn to return from obscurity in the Chicago pass rush.
Chicago's David Montgomery ran arguably the hardest of any running back in the NFL last week, but he still got just 16 carries which continues the indictment of Matt Nagy's play calling and his refusal to stick with the run. Montgomery still had 101 yards on the ground, and that came against last year's #3 defense against the run in the Rams. Cincinnati was 29th defensively vs. the rush last season, but has already shown improvement in holding Cook to right around 3 yards/carry last week.
Week 2 Bengals at Bears Pick
How long will we see Dalton in this one against his old team? The city of Chicago allowed no fans in attendance last season, but Dalton might prefer that instead of 65,000 just waiting to boo him on Sunday. Ultimately that will work in Chicago's favor, as Nagy will have no choice but to turn to Fields who the Bengals had failed to game plan against. If the Bears pass rush could show up that would be nice too.
Bears 31 – Bengals 21
Free Pick: Bears -1.5