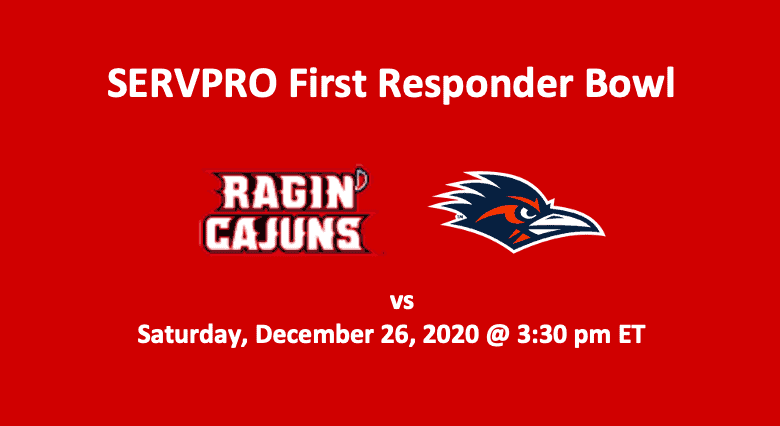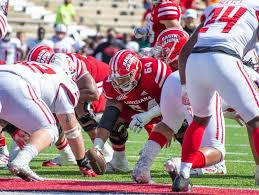 Our Louisiana vs UTSA pick 2020 for the SERVPRO First Responder Bowl is the first of three bowl games being played on the day after Christmas. It has the #19 Ragin' Cajuns, who finished first in the Sun Belt Conference – West, and the Roadrunners, who were second in Conference USA – West, going up against each other. Louisiana posted a 7-1 conference record and 9-1 overall mark. However, the championship game against the Coastal Carolina Chanticleers was canceled. In C-USA, UTSA recorded five wins and two losses. The team's overall mark was 7-4.
The Louisiana Ragin' Cajuns are favored in this bowl game. They are at -14.0 (-105). The UTSA Roadrunners spread is +14.0 (-105). In terms of totals betting, the over/under can be found at 55 (-105). Also, here's our Lending Tree Bowl prediction, featuring WKU and Georgia State.
The SERVPRO First Responder Bowl will be played on Saturday, December 26. The kickoff will be at 3:30 pm ET with the game being played at Gerald J. Ford Stadium in Dallas, TX. The weather is predicted to be mostly cloudy with a temperature of 58-degrees. Probability of precipitation is 14% and winds will be 8 MPH from the South.
Louisiana vs UTSA Pick 2020 – Statistics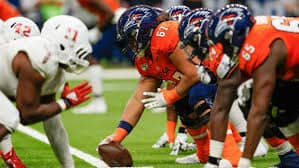 Our Louisiana vs UTSA pick 2020 notes that when it comes to points for and points against that the Ragin' Cajuns are just a tad better than their opponents in this bowl game. UL averaged 33.9 PPG, while the University of Texas at San Antonio averaged 5.3 fewer points, scoring 28.6 PPG. On the other side of the ball, Louisiana held opponents to 21.8 PPG. Conversely, UTSA gave up 25.2 PPG. Consequently, in points allowed UL was at +6.8. Subsequently, the PF/PA Ragin' Cajuns edge came to +12.1.
In terms of offensive yards, these two teams were fairly even as each averaged just over 400 YPG. Also, each team split the yardage close to evenly between rushing and passing. On defense, UL allowed 180.9 YPG in rushing and 166.9 in the air. UTSA gave up 228.1 YPG in passing and 152.9 in rushing.
SERVPRO First Responder Bowl – Offense and Defense
Both teams can move but the ball, but the Ragin' Cajuns have a defense that can stymie opponents. Plus, the Roadrunner D is not as adept at stopping opponents as the UL defense is. Here's how these two teams break down specifically.
Ragin' Cajuns and Roadrunners


For the Cajuns, QB Levi Lewis has passed for over 2,000 yards, completing just over 60% of his passes. Lewis has thrown 17 TD passes and seven picks while being sacked seven times. He's also averaged 6.5 YPA in rushing and scored five TDs on the ground. RBs Elijah Mitchell and Trey Ragas have seven and nine TDs respectively. There are three receivers who each have 19 or more catches and 300 or more yards. They're responsible for a total of seven scores.
UTSA QB Frank Harris has thrown 10 TD passes and five INTs while being sacked 13 times. He's also rushed for eight TDs, averaging 5.7 YPA. RB Sincere McCormick has covered 1345 yards this season, running for 11 scores. WR Zakhari Franklin leads the team with six touchdown receptions.
Louisiana vs UTSA Pick 2020 – Defenses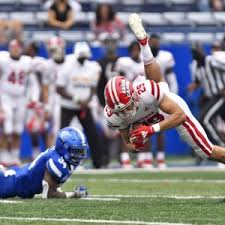 UL has grabbed 15 picks while defending 38 passes. They have forced seven fumbles and recovered six. The Ragin' Cajuns have 18 sacks. Their D has scored one touchdown. Safety Bralen Trahan has four INTs and 9 PD, while corner Mekhi Garner has grabbed three picks and posted seven PD.
The Roadrunner defense comes to this contest with some impressive stats that include 25 sacks, 11 INTs, and 30 PD. They've forced 13 fumbles and recovered seven. The D has scored once. Safety Rashad Wisdom leads the team with 52 solo tackles, 85 total tackles, four picks, and two forced fumbles.
Louisiana vs UTSA Pick 2020 – Final Word
Our Louisiana vs UTSA pick 2020 is liking the Ragin' Cajuns for both their offense and defense. However, the spread of 14 looks a little imposing here. For UTSA to win they will have to pressure the QB and force some errors. Plus, the Roadrunners will need to find points. We're going with the better D and taking UL. We like the over at 55.0.
SERVPRO First Responder Bowl 2020 – Summary
Point Spread – UL Ragin Gajuns at -14.0 (-105).
Totals – Over 55.0 (-105)