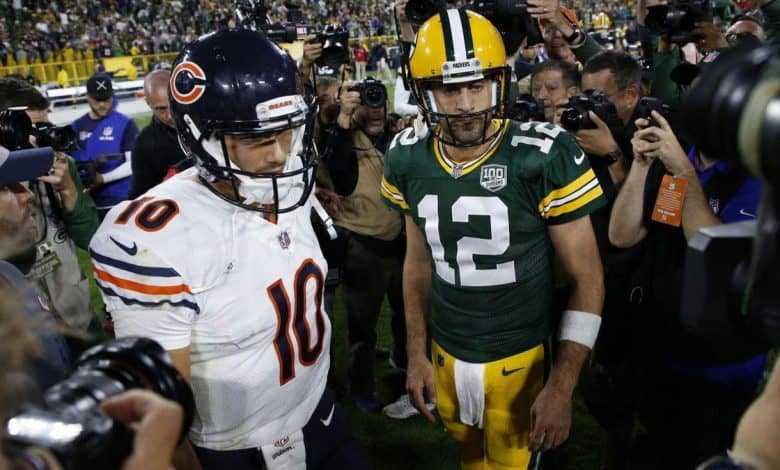 Chicago has a familiar foe standing in the way of a playoff berth as they head into the week 17 Packers at Bears pick. The Bears are in the postseason with a win (or Arizona loss to the Rams), but they'll meet a fully charged Green Bay squad that gets the #1 seed, and more importantly a first round bye, if they can get the victory.
Green Bay is a -4.5 favorite on the road here, a number that seems kind of low considering the Packers have won 8 of the last 9 in this series. That includes a 41-25 win in week 12 when the Packers were -7.5 favorites at Lambeau, a victory that kickstarted the current 5-game Green Bay win streak. Chicago has won 24-17 and lost just 10-3 in the last two head to head games at Soldier Field however.
Rodgers Set for Another Huge Game
The last thing the Bears wanted coming into this game was for it to mean something for the Packers. There was thoughts that Green Bay would rest their starters if there was nothing to play for, but Green Bay gets a bye next week with a win, but goes into a potential tie breaker with the Saints and Seahawks with a loss. There's only one bye in this year's playoff format, so it's a big deal.
As usual, Aaron Rodgers is the straw that stirs the drink for Green Bay. Even temperatures in the 30s forecast for Chicago won't stop the potential MVP, as Rodgers tossed 4 TD on 21/25 passing in the snow last week against Tennessee. Rodgers threw a pick vs. the Titans, but now has 15 TD to 1 INT over the last five games.
Another huge afternoon is almost inevitable for the Packers QB, who threw for 4 TD on 21/29 passing in the first meeting of the year with Chicago. The Bears also have 5 DBs on the injury report, and core players like Roquan Smith (eye), Akiem Hicks (illness), and Kahlil Mack (shoulder) are going to play but at well less than 100%. It's hard to beat Green Bay with all hands on deck.
Is Chicago's Recent Success a Mirage
All the talk is that Chicago has a chance coming into the week 17 Packers at Bears pick on the heels of their three game win streak. Nagy's offense has looked better lately, but their victory streak has also come against Houston, Minnesota, and Jacksonville; teams with a combined 11-34 record coming into Sunday's game.
Chicago also lost to Detroit back in week 13 after a Mitch Trubisky fumble inside of his own 20-yard line with under 2:00 to play. Trubisky has played better since returning to action in the first game against Green Bay, but he had 2 INTs that game and has one in each of the last two weeks. You can't give Rodgers extra possessions…ever.
Chicago's run game has improved lately, and David Montgomery has put up 95+ yards in four of the last five with 6 TDs the last four weeks. Once again, that's mostly against the Jaguars #30, Minnesota's 28th, and Houston's 31st ranked rush defenses. Green Bay is 14th vs. the run, and is 7th overall in yards/game allowed.
Free Week 17 Packers at Bears Pick
This line of Green Bay 4.5 looks like a gift. Chicago has looked better lately, but only against horrible defenses. The Bears defense is hurting, and Rodgers has tons of incentive with rest next week and an MVP award that seems like his to lose.
Packers 37 – Bears 24
Free Pick: Packers -4.5