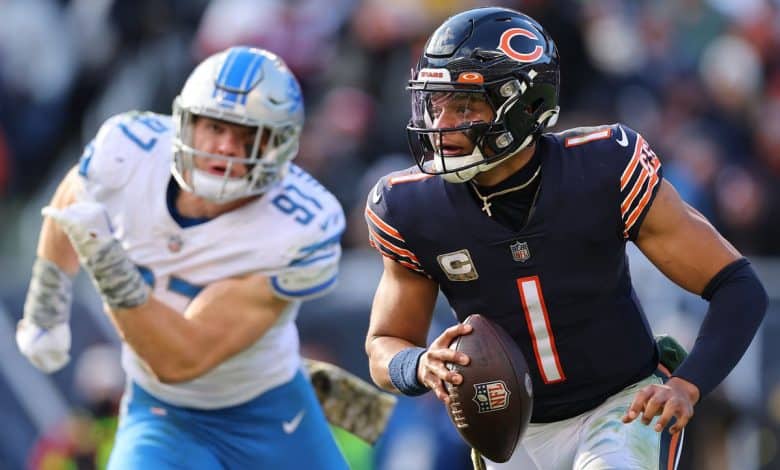 Detroit (7-8) gets a nice scheduling in their quest to make the postseason as Chicago has lost 8 in a row heading into the Bears at Lions betting matchup. Unfortunately, the Lions may have already sealed their fate 37-23 loss at Carolina last Saturday in a game Dan Campbell's team absolutely had to have.
Even though this is a division rivalry game, the Bears have no problem giving one up here. Chicago looks destined for the #2 draft pick thanks to the longest losing streak in the NFL, but they also have an outside chance at #1 which could get a king's ransom in trade the way Bryce Young played with 5 TD passes in Alabama's 45-20 win in the Sugar Bowl.
Bears Fine With Losses
Chicago has approached the second half of the season nearly perfectly. They are a team that knew they weren't going to win this season, but at least have stayed competitive – while also losing and improving on draft position at the same time that over $120 million will be available in cap space in the 2023 offseason.
You never want to look absolutely horrible if you're an NFL team, and the Bears have suffered some close losses during their 8-game slide, falling 35-32 to Miami, 27-24 at Atlanta, having a 9-point lead before dropping a game to Green Bay, giving the Eagles a run before a 25-20 defeat, and also falling to these Lions 31-30 in week 10.
Besides great draft capital, the best thing to come out of the Bears season is that they seem to have found a QB. Justin Fields became just the third QB in NFL history to break the 1,000 yard rushing mark (1,011) and his passing game has shown improvement as well. Fields had 2 TD passes as well as 147 yards and 2 TDs on the ground in the first meeting with Detroit.
Lions Need to Find a Way to a W
Just as Detroit fans were seeing a light at the end of the tunnel when their team had won six of seven games, the truth comes out in last week's 37-23 loss at Carolina. At 7-8 the Lions are now tied in the win column with 7-7-1 Washington, 7-8 Seattle, and 7-8 Green Bay.
The  Commanders control their own destiny for the last wild card slot, and finish the year with Cleveland and then Dallas in a meaningless game for the Cowboys – so the Lions are going to need some help to get into the playoffs. Detroit heads to Green Bay next week in what could be a very pivotal game, but also can't look past the Bears at Lions betting matchup.
Carolina ran the ball 43 times last week for Detroit and amassed 320 yards on the ground alone. That's not a great precedent for the Lions ahead of a meeting with the #1 rushing team in the NFL (179.7).
Free Bears at Lions Betting Pick
Chicago had Detroit on the ropes in week 10 up 24-10 heading into the 4th quarter before Detroit rallied for a 31-30 win. That's kind of been Chicago's mindset over the last half of the year though – get up to show the league they can compete, but then also lose.
It's still hard to trust Detroit at -5.5 here – as the Lions will likely win but this feels like it could also be a field goal margin. Fields is going to be even better on the fast track of Ford Field, so the way to play this one is on the total and it being high scoring again.
Free Pick: Over 53.5