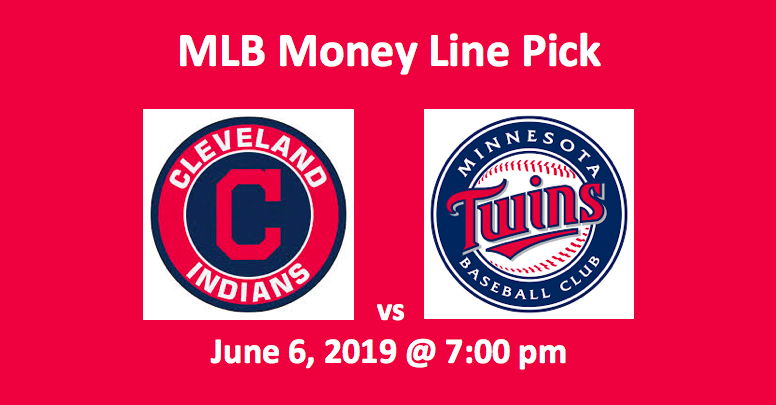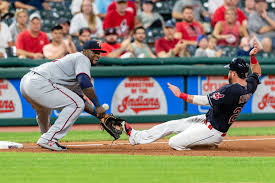 This Cleveland Indians vs Minnesota Twins moneyline pick has the Tribe at -110.Our Cleveland Indians vs Minnesota Twins moneyline odds put the slightly underdog Twins at +100. This Thursday night, June 6, 2019 game, which is scheduled for 7:00 pm ET, is the third and final game of this series.
When the teams met earlier this season for their first three-game series, Minnesota won two-of-three. In the two games played in this second series, Cleveland has taken both contests. The Twins will try to salvage a win and even out the six meetings with three wins apiece. In the first two games at Cleveland's Progressive Field, the Tribe took down the Twins 5-2 and 9-7.
Cleveland Indians vs Minnesota Twins Moneyline Pick – Pitchers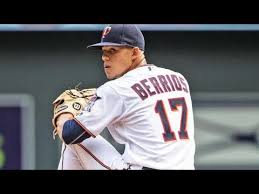 The Twins send righty Jose Berrios (7-2 W/L, 3.27 ERA, 1.13 WHIP) to the mound. Berrios throws an 82mph curve that offers little depth and is much harder than most other curves, as it elicits sweeping glove-side movement. He also throws an effective 93mph four-seam fastball while mixing in a change that has a slight arm-side fade and a 93mph sinker with an arm-side run. For the month of May, Berrios went 3-1-2. The Twins won both of those no-decisions. In each of his last two games, where he won one and got a no-decision in the other, he went 6.2 innings. In those two games, Berrios allowed four earned runs on 12 hits. He struck out 12 and walked three.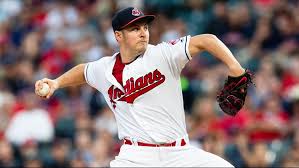 Cleveland right hander Trevor Bauer (4-5 W/L, 3.76 ERA, 1.17 WHIP) gets the start tonight. Overall, Bauer is a fastball pitcher. His four-seamer, which comes in at 94mph, results in more swings and misses than average. His hard, biting curve, which runs at 80mph, offers up more than the average number of grounders, while Bauer's 85mph cutter, 87mph change, and 81mph sinker are all fairly effective. His cutter is especially heavy, sinking and causing a large number of whiffs. Bauer has not had a win since April 30 when he pitched seven innings and allowed four runs on four hits, striking out 10 and walking four. In May, he was 0-4-2 and the Indians were 0-5-1 over the course of those starts.
That same month, Bauer's ERA jumped from 2.45 to 3.76. In his last two starts, Bauer allowed a total of 10 runs with just four being earned. In each game, he struck out eight and walked one while giving up a total of 13 hits.
Indians vs Twins – Offense and Stats
The Indians have hit 68 homers while giving up 80. The Twins have smacked 114 round trippers and allowed just 75. Minnesota's crossed the plate 356 times. The Indians have scored 248 runs. Minnesota is batting .272, while their MLB opponents are hitting just .245. The Tribe is hitting only .227. Opponents are batting .241 against them
The Twins' Eddie Rosario leads the team with 50 RBI and 18 homeruns. He's batting .276. Shortstop Jorge Polanco tops the club in batting average with a .339 mark. Max Kepler, C.J. Cron, Jonathan Schoop, and Byron Buxton each have 30-plus RBI and 12 or more doubles. The first three have each smacked 10-plus homers this season. Indian first baseman Carlos Santana comes to tonight's game with a .285 BA. He tops the team with 37 RBI. Santana is tied with shortstop Francisco Lindor for homers with 11. Lindor, who's hitting a club-best .311, is second in RBI with 24.
Cleveland Indians vs Minnesota Twins Moneyline Pick
Our Cleveland Indians vs Minnesota Twins moneyline pick likes the Twins in this one due to their starting pitching and hitting. Cleveland's Bauer has been struggling, and, at times, has suffered from some bad luck in terms of unearned runs. Although the Tribe took the first two games of this series, we expect them to fall short in this one. Our moneyline pick for the Cleveland Indians vs Minnesota Twins meeting is the visiting Twins at +100.
Summary Moneyline Pick 6/6/19 – Cleveland Indians vs Minnesota Twins
Minnesota Twins moneyline at +100