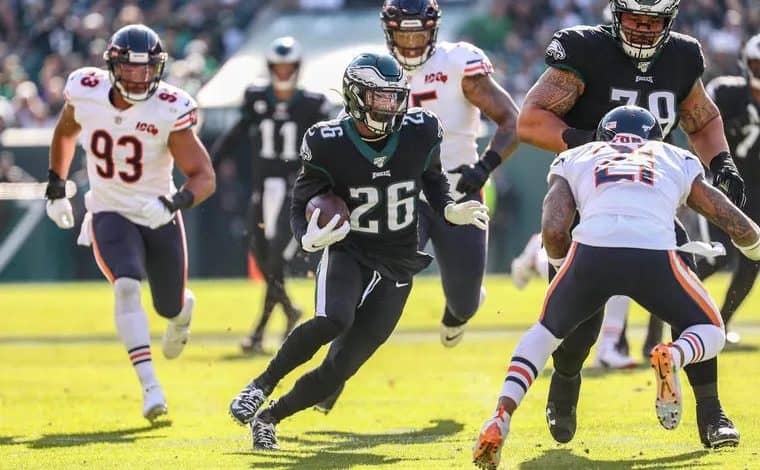 Most people would assume that 12-1 Philadelphia runs away with Sunday's Eagles at Bears betting matchup. Chicago is just 3-10 on the season, losers of six straight, and currently in line for the #3 pick in next Spring's draft.
The Eagles have won four in a row, the last two by an average of 25.5 ppg. Philadelphia is a -8.5 favorite Sunday at Soldier Field, but could they be in line to come out flat getting caught looking ahead to a showdown in Dallas next Saturday? The Bears are also coming off their bye week, but 55% of the betting public still likes Philadelphia to cover this lofty number.
MVP Pad Game for Hurts
Many people keep waiting for the Eagles to trip up kind of like they did in week 10 in a 32-21 defeat to Washington, their only loss of the season. That almost happened again in a 17-16 win at Indianapolis and holding on for a 40-33 win over Green Bay, but the Eagles are looking as dominant as ever the last two games, a 35-10 win over Tennessee and a 48-22 defeat of NFC East rival New York.
The big reason Philadelphia has looked so good the last two weeks is MVP frontrunner Jalen Hurts, who has 5 TD passes and 2 TD runs the last two games and has just one INT the last nine games. Hurts' strong play should continue, as the Bears have the league's 5th worst rush defense.
The talent discrepancy between the two teams in the Eagles at Bears betting matchup is night and day. Philadelphia is just stacked with weapons as Devonta Smith had a 40-yard TD catch last week, A.J. Brown hauled in a 33-yard scoring grab, and Miles Sanders had a 40-yard TD run. This is a quick strike team and Chicago could be in trouble.
A Glimpse Towards the Bears' Future?
The Eagles have made great strides in Hurts' third year, something Chicago can be optimistic about when their own QB Justin Fields heads into his third season in 2023. The Bears have the money ($100+ million in cap space next season) to trade for their A.J. Brown and the draft pick (currently #3) to select their Devonta Smith.
Before Chicago makes their run in the offseason, they're probably going to have to take their licks on Sunday. It won't be Fields' fault though, as he's not the passer Hurts was in his 2nd year with 3,144 yards and 16 TDs (Fields has 1,896 yards / 13 TDs) but can run with the best in the NFL after going for 50+ yards and a TD in six straight.
Chicago was losing games but keeping them close (35-32 to Miami, 31-30 to Detroit, 27-24 to Atlanta) but the last two have been a 31-10 loss to the Jets (with Fields injured) and 28-19 at home to Green Bay.
Free Eagles at Bears Betting Pick
The O/U for Sunday's game is 48.5, a number Philadelphia was 1/2 a point shy of themselves in last week's win over the Giants. The absolute best way to play this game is on the total, as Fields' running can help the Bears move the ball in a unique manner and Chicago won't have any answers defensively for the Eagles offense.
Free Pick: Over 48.5