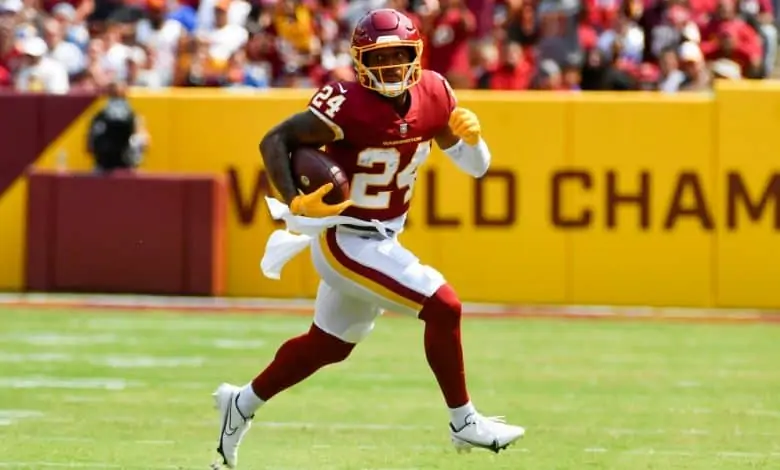 The early lean for week 12's Seahawks at Washington MNF matchup would have to be Seattle as just -1 point favorites on the road – wouldn't it? Sure Pete Carroll's squad is just 3-7 on the season, but they still have Russell Wilson, D.K. Metcalf, and Tyler Lockett.
Maybe Washington at +1 at FedExField as the game means more to WFT as Dallas seems to be fading atop the NFC East and a win Monday night would put the team to 5-6 and into a tie with the Vikings, Falcons, and Saints at just 1 GB from San Francisco in the NFC wild card picture. A slight 54% of public bettors are favoring WFT.
Getting (Staying) Ugly for the Seahawks
There were expected to be some growing pains for Russell Wilson as he came back into the lineup after missing three weeks with a finger injury. So far in the two games that Wilson has returned for, the Seahawks have scored a total of 13 points. That includes a 17-0 shutout in Green Bay (the first of Wilson's career) and falling 23-13 last week to a Kyler Murray-less Cardinals team.
Wilson has thrown for 161 and 207 yards the last two weeks, with 0 TD and 2 INT. Is there any chance he turns things around in the Seahawks at Washington MNF betting matchup against a WFT team held Tom Brady to 220 yards and intercepted him twice in a 29-19 week 10 win? The good news for Seattle is that Wilson won't have to face dominant Washington pass rusher Chase Young who has landed on the IR with a leg injury – although he also only has 1.5 sacks on the season.
Seattle also has some things to shore up on their defense after allowing a 328 yard, 2 TD performance to backup Colt McCoy in Arizona's win last week. The Seahawks have statistically the worst defense in the NFL (401.6 ypg) which also includes ranking dead last vs. the pass (279.6 ypg).
Washington Coming Around
WFT didn't look like they would even sniff the postseason after going 2-6 to start the year. Washington is by no means out of the woods yet, but two straight wins and 4-6 with a great chance to get to 5-6 looks a whole lot better.
Washington has used a not great – but a balanced – offensive attack to get wins in consecutive games. Taylor Heinicke hit on 26 of 32 passes vs. the Buccaneers with 256 yards and a TD while Antonio Gibson churned out a very valuable 64 yards and with 2 TDs. Heinicke completed 16/22 vs. Carolina and had 3 TD passes while also playing in a tough atmosphere as the Panther fans were amped up for Cam Newton's return and an early 14-7 lead. Gibson added 95 yards rushing vs. Carolina.
Seahawks at Washington MNF Betting Pick
It's plain and simple – Russell Wilson is going to have to beat WFT in the Seahawks at Washington MNF betting matchup.  Seattle is running out a combination of Rashaad Penny, DeeJay Dallas, and Alex Collins at RB and Washington doesn't give up much in the ground game anyways as their 98.5 yards/game allowed is 7th best.
Seattle also doesn't have the defense to keep them in this one in a 13-7 or 14-13 game. Heinicke, Gibson, and Terry McLaurin are going to get theirs against the worst total yard defense in the league. Washington should be favored here.
Seattle 17 – Washington 27
Free Pick: Washington +1