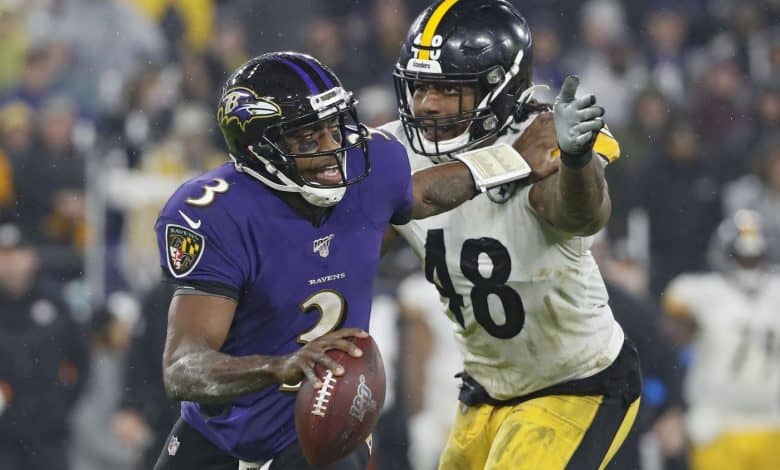 The Ravens at Steelers pick to conclude a wild NFL week 12 may be one of the most anticipated in recent memory. That's not because this game is expected to be especially good, but because it was originally scheduled on Thanksgiving night, then Sunday, then Tuesday, and now finally may be getting played 3:40 PM ET on Wednesday afternoon.
Baltimore has been ravaged by positive COVID tests, so much so that they had as many as 8 starters that were going to be held out if the game was played on Thursday. The biggest loss is Lamar Jackson, as his positive test seems to be giving way to Robert Griffin III as the starting QB. The line has shifted all over this week, looking to finally settle with the undefeated Steelers as -10 point favorites in this very weird mid-week afternoon game.
Ravens Getting Some Reinforcements Back
Many people on the Pittsburgh roster have been unhappy about the continued postponements of the Ravens at Steelers pick, especially since Denver was forced to play with a 5th string QB on Sunday due to their whole quarterback room having alleged COVID contact.
The wait has allowed Baltimore to possibly get back some players that would have originally been ruled out. Mark Ingram II and J.K. Dobbins are set to return in the back field, but the Ravens are still going to be without Willie Snead and will have to turn to the practice squad at tight end. Dez Bryant could be be a focal point of the offense even after just being signed off the practice squad himself on Saturday.
Calais Campbell, Matthew Judon, and Pernell McPhee all being unavailable for Wednesday's game is a blow, but upstart rookie Patrick Queen as well as the entire Baltimore secondary will be in tact. That defense is up against the Steelers' #4 scoring offense in the league however.
Steelers With a Great Opportunity to Go To 11-0
Pittsburgh players like Eric Ebron who feel that the constant rescheduling of this game is a farce may have a point, but the Steelers still have a huge advantage. Baltimore's practice facilities have been closed for most of the past 5 days, and they'll have to incorporate a lot of moving parts basically during in-game action.
The Steelers may have had an easy time with Baltimore even if both teams were near full strength and the game was played as scheduled. Pittsburgh won 28-24 in Baltimore on November 1st, despite running for just 48 yards and throwing for only 173. The Ravens fumbled twice and Jackson threw two INTS which led to their demise in that game.
There are reasons to think the Steelers could be less than potent on Wednesday, aside from the extra days off and playing on a Wednesday afternoon. Pitt has had a pretty easy last three weeks against Dallas, Cincinnati, and Jacksonville, but nonetheless the Steelers have a great chance to improve on their #2 pass, #8 run, and #3 points allowed defense.
Free Ravens at Steelers Pick
It doesn't take expert level analysis to know that Pittsburgh has a critical edge in this strangest of game circumstances. 34% of the betting public have the fortitude to back Baltimore, who could actually put up some points with RGIII at the helm as he was in last year's 28-10 regular season finale win over the Steelers. Pittsburgh should get theirs in this tilt as well though.
Steelers 31 – Ravens 20
Free Pick: Over 42.5