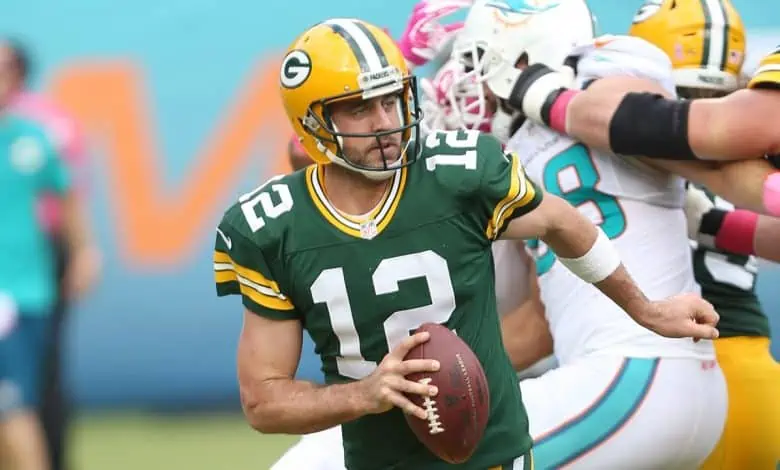 Both Green Bay and Miami are hoping that a victory is under the tree in the Christmas Day Packers at Dolphins betting matchup. Both clubs are in a must-win situation, with the Packers (6-8) needing to win all three of their remaining games while Seattle and Washington continue to falter – like they both did on Saturday.
Miami (8-6) has two more wins than the Packers but is in just as tough a situation to get into the postseason. The Dolphins at least control their own destiny currently sitting in the 7th and final wild card spot, but New England, the Jets, Tennessee, and Pittsburgh are all within a game in the win column. Oddsmakers have Miami a -3.5 favorite, which is down from a -5.5 open.
Green Bay Needs a Throwback Game from Rodgers
It's hard to call the 2X reigning MVP Aaron Rodgers a game manager, but he's in danger of throwing for under 4,000 yards for the first time in his last six healthy seasons (was limited to 7 games in 2017) and his 10 INTs are already one more than he's thrown in the last two years combined. Green Bay as a team is just 17th in passing this season (219.3 ypg).
Rodgers has thrown for 140, 182, and then 229 yards in his last three games, but his O/U for the Packers at Dolphins betting matchup is as high as 252.5. Sportsbooks know that #12 is going to have to throw the football on Sunday a) because Miami can move the ball at will and Green Bay will need to keep up and b) the Dolphins also have the 5th worst pass defense in the NFL.
Dolphins Finally Back at Home
Miami is on a three game losing streak, but it probably would have been more of a shocker had they won any of those three trips to San Francisco (33-17), at the Chargers (23-17), or at the Bills (32-29). Last week's loss to the Bills combined with Buffalo beating Chicago on Saturday means Miami's faint hopes at an AFC East title are officially off, but now they just want to hold on to a wild card berth.
There were some bright spots in last Saturday's 32-29 defeat in Buffalo – the first of which is that the Dolphins played tough even in the wind and cold as well as snow that had some people calling for the game to get postponed because it was too dangerous for fans to travel. Even in less than ideal conditions Raheem Mostert ran for 136 yards, Jaylen Waddle had 114 yards receiving, and Tua Tagovailoa had 2 TDs and didn't throw an interception.
Now the Dolphins are back home where temperatures are expected to be in the 50s. Miami is 5-1 at home this season and has averaged 34.5 ppg in their last two at Hard Rock Stadium. The Packers have a solid pass defense on paper (185.1 ypg, 2nd fewest in the NFL) but that also may be because they are so bad at stopping the run (148.9 ypg, 29th).
Free Packers at Dolphins Betting Pick
Surprisingly 59% of public bettors like Green Bay plus the points, but that's hard to see. The Packers have looked shaky in having to come from behind and beat the Bears and are on the short week after an equally hard-to-watch 24-12 win over the Rams on Monday night.
Miami meanwhile has held their own in the last two of a three game road trip and has extra rest after their trip to Buffalo last Saturday. Too many big plays from the Dolphins here – both through the air and on the ground.
Free Pick: Dolphins -3.5