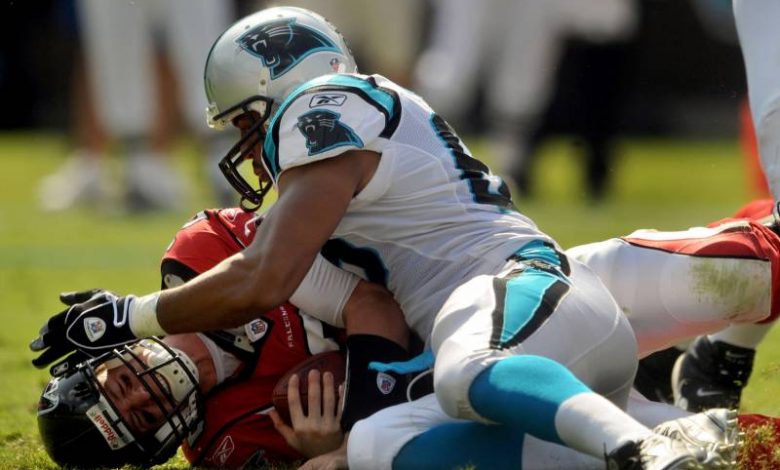 Atlanta seems to be getting some love from oddsmakers considering they are 'only' a +4 underdog in the NFL week 11 Falcons at Panthers free pick. Dan Quinn is coaching for his job and Atlanta looked good in last week's upset over the Saints. Carolina has dropped 2 of their last 3 – but in tough situations at San Francisco and at Green Bay. Does being home give the Panthers the edge in this one?
Can Atlanta Keep Rolling?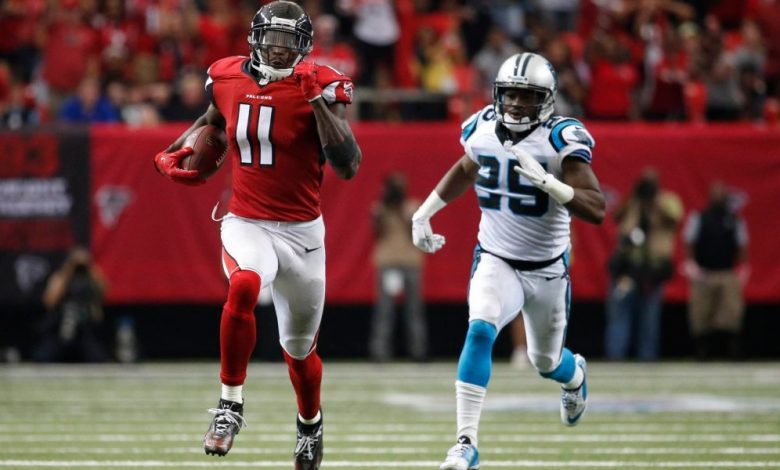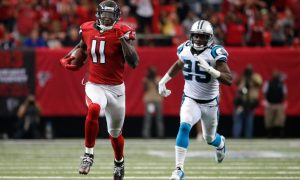 The Falcons pulled one off last week, going to New Orleans and escaping with a 26-9 victory as 14 point underdogs. Matt Ryan had a modest 182 yards passing in that game but Atlanta ran the ball 34 times for 143 yards vs. the Saints.
Last week's victory was big because it snapped a 6-game losing streak. The game was also costly for the NFL week 11 Falcons at Panthers free pick as Austin Hooper (56 catches, 608 yards) went down with a knee injury and Devonta Freeman hurt his foot and both will miss extended time. Ryan is also battling through an ankle injury so Atlanta is banged up in trying to win just their 2nd road game of the season and against a physical Carolina team.
The positives that Atlanta brings into today's game is their defense that held New Orleans to just 9 points. It was the first time that the combo of Drew Brees and Sean Payton had been held to single digits in scoring. The Falcons had been one of the worst defenses in the league prior to that, giving up 27+ points in 5 of 6 games prior and 34 or more three times. Carolina doesn't have the offensive prowess of the Saints, but can the Falcons dominate on D two weeks in a row?
Carolina Needs a Rebound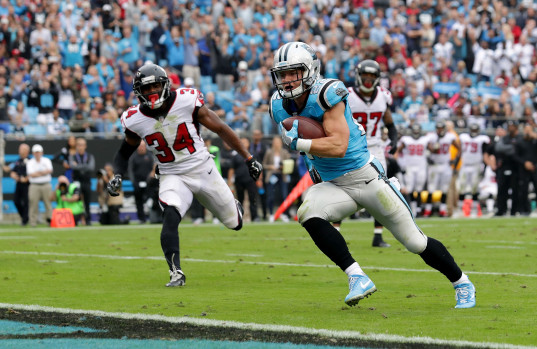 Atlanta did the Panthers a favor in upending the Saints last week but Carolina is still two games down in the South. Carolina has two games with New Orleans left on the schedule but they know that Sunday is a must-win vs. the 2-7 Falcons. New Orleans losing last week has to help the Panthers focus to not overlook this one.
Another reason Carolina is in no position to take games for granted is because they've dropped 2 of their last 3 games. The offense has had some real question marks in a 13-51 loss to San Francisco and a 16-24 defeat to Green Bay. Both of those were on the road though and against quality NFC contenders. Carolina has won their last two at home, and have posted 30+ points against decent defenses in Tennessee and Jacksonville. Kyle Allen did have his first 300+ yard passing game of the season last week against the Packers while Christian McCaffrey has ran for 100+ in three consecutive contests.
The Panthers defense also seems to have put that 50+ point hiccup vs. San Francisco behind them. Aaron Rodgers had 233 yards last week but 0 TD passes and Carolina held Tennessee to 7 points through 3 quarters the game prior. The Packers did have 163 yards on the ground and Titans 120+ yards rushing but Atlanta has the league's 3rd worst rushing offense.
NFL Week 11 Falcons at Panthers Free Pick
Atlanta's win last week opened some eyes in Carolina. Ron Rivera knows this is no longer an unofficial bye week and he'll have his team prepared to stay in the race with the Saints. Atlanta has just one road win on the season, and is fighting too many injuries on offense to keep this one close vs. a physical Panthers squad.
Pick: Carolina Panthers -4