For the May 28th NBA playoffs free pick oddsmakers have said 'enough is enough' in terms of setting the total. Four straight games have gone 'under' the total and five of six in the series. Because of this Monday's night's Game 7 in Houston sees an O/U of just 207.5, down nearly 20 points from the 225-226 range that's been posted for much of the series. That's not a whole lot of points for the #1 and #2 scoring offenses during the regular season to approach – but does the pressure of a Game 7 mean both teams play it buttoned up and close to the vest?
Golden State Is on the Road for Game 7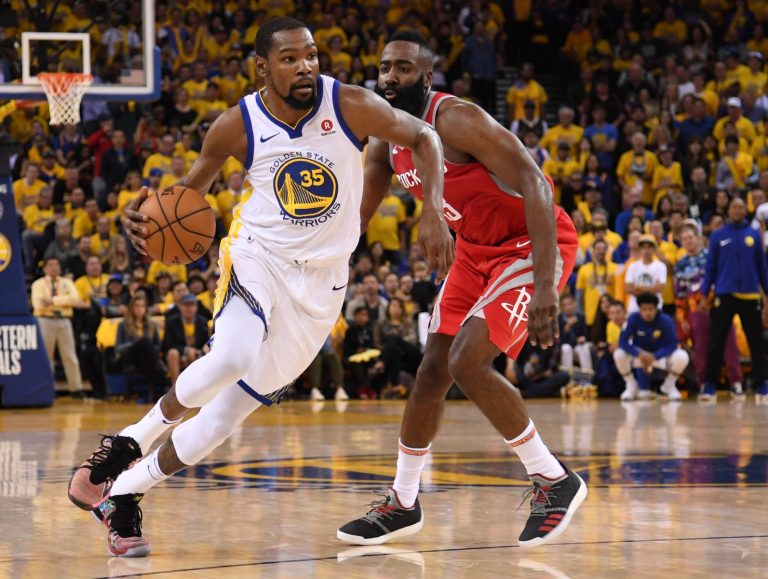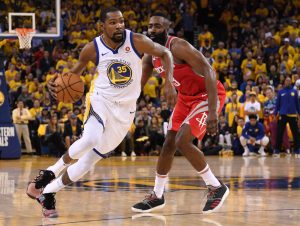 The Warriors have scored OK during the three games in Houston, posting point totals of 119 in Game 1, 105 in Game 2, but then just 94 in Game 5. They shot well to open up the series at over 50% from the field and nearly 40% from beyond the arc, but those numbers have fallen considerably. The Warriors shot just 30% from three point range in Game 2 and couldn't pull off a win in Game 5 despite shooting 20-23 from the FT line. Is there anything to think that those numbers improve in the May 28th NBA playoffs free pick?
It really is hard to gauge what we're going to see from Steve Kerr's team tonight. The Warriors offense looked great in Game 6, but that performance came in the comfort of the Oracle Arena in front of the home town crowd. Klay Thompson looked fully recovered from his early series ailments in that game, scoring 35 points, powered by 9-14 from three point range. Stephen Curry and Kevin Durant combined for 64 points as well on 25-46 shooting from the field. That's 99 points for the trio that had a combined for 74 in the 94-98 Game 5 loss in Houston. What can we expect from Thompson, Curry, and Durant in front of an intense Houston crowd tonight?
Whether This Game Goes 'Over' or 'Under' Largely Depends on Eric Gordon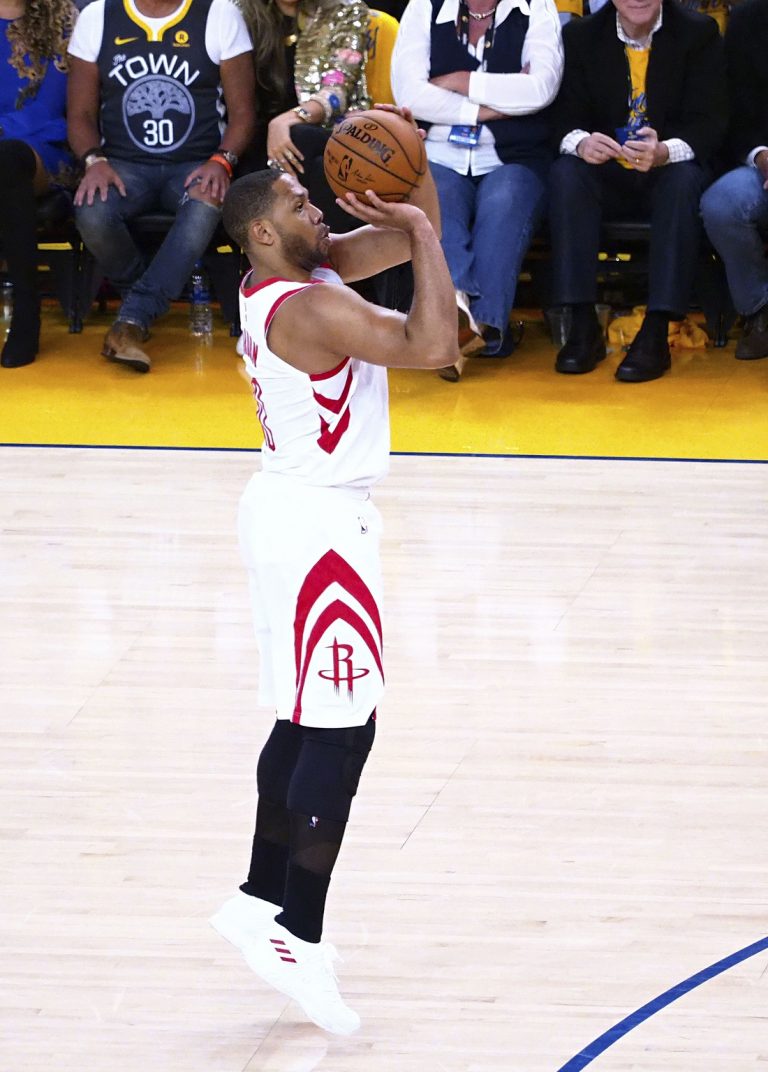 With Chris Paul's playing status uncertain due to a leg injury, the most important player for Houston in the May 28th NBA playoffs free pick becomes Eric Gordon. James Harden is likely going to get his. The MVP candidate bounced back with 32 points after scoring just 19 the last time the teams met up in Houston in Game 5. It's Gordon though that will determine if this is a high scoring affair or not. He's averaging 22 ppg during the series at home
Clint Capela was also a decent factor the last game in Houston, scoring 12 points and grabbing 14 rebounds. He averaged just 8.5 points and 8 rebounds in Games 1 and 2 at the Toyota Center. Trevor Ariza had just 6 points in Game 5 and will need to do more tonight, especially if Chris Paul can't play. Look for a surprising X-factor to be Gerald Green off the bench as he had 11 points in Game 6.
May 28th NBA Playoffs Free Pick
Golden State is favored by 6 on the road Monday night and it's looking more and more like we'll see Warriors – Cavs Part IV as Lebron James punched his ticket to the NBA Finals yet again last night. The Eastern Conference Game 7 was a very low scoring affair as Cleveland won 87-79. We'll see two different types of offenses tonight. Bettors who have been hammering the 'under' will likely stay true to that tonight, but the O/U would actually be 3-3 in the series set at tonight's 207.5. Big time players make big time plays in big time games and there's a lot of marquee names on the court tonight. It won't take much to push the game 'over' the total.
Free Pick: Golden State Warriors / Houston Rockets *Over* 207.5