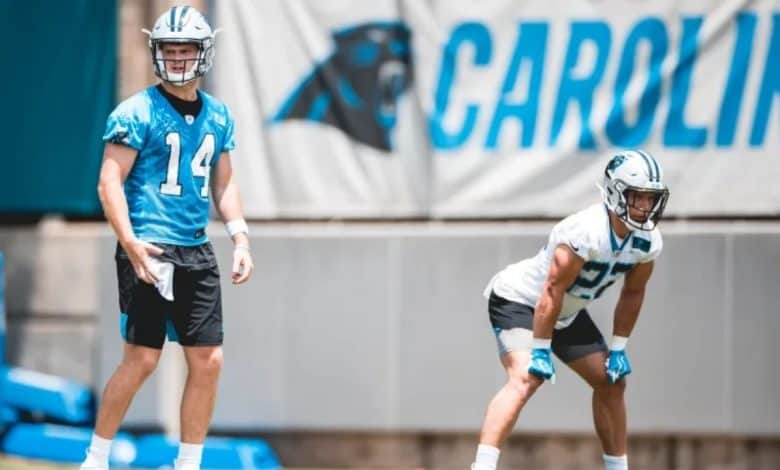 It may not look like it based on the teams' 2020 records, but the week 1 Jets at Panthers matchup definitely has some intrigue. Here we have Sam Darnold, who was cast off by New York in the offseason, meeting up against his old team in the season opener. The Jets meanwhile start Darnold's replacement in #2 pick Zach Wilson. It's a rare occasion where both sides probably agree they are better off.
Combined these two teams were just 7-25 last year, but the past is in the past. The Jets hired the fiery Robert Saleh from San Francisco to be their new head coach while Carolina HC gets his first full preseason to implement an offense after not having a 2020 exhibition due to COVID in his rookie campaign. Carolina is a -3.5 favorite here.
Jets Offense Still Iffy
The Jets will debut their regular season West Coast-style offense on Sunday and it's a situation that Wilson is familiar with from his time at BYU. Wilson hit 15 of 20 passes in the preseason with 2 TD, so he looks the part so far. The Jets have a couple first round picks on the left side of the line so Wilson should be protected on the blind side – but who is he going to throw to?
Leading receiver from a year ago Jamison Crowder is likely to miss the week 1 Jets at Panthers matchup due to being placed on the COVID list. Corey Davis had 984 receiving yards last year but that was with teams focusing on A.J. Brown in Tennessee, how will the free agent signee respond to being the main man with Crowder out? Keelan Cole (knee) and Denzel Mims (hip) are also on the injury report and the Jets starting RB is Tevin Coleman, the injury-riddled former 49er.
The Jets were stout against the run last year (12th) and should be better defensively solely with Saleh coming on board as head coach. The team had hoped that offseason signee Carl Lawson (3 years, $45 million) would bolster the pass rush but he ruptured his Achilles in August and is out for the year. The Jets do get CJ Mosley back after a 2020 opt out but will likely be starting three rookies on defense.
Darnold Ready to Rip Old Team
Darnold can't even be mad about winding up in Carolina. He's got a couple of 1,000 yard receivers in DJ Moore and Robbie Anderson, the highest graded offensive rookie of the preseason in Terrace Marshall, Jr. and gets Christian McCaffrey returning to the backfield.
If McCaffrey can stay healthy and Darnold can comprehend the offense this team can be downright scary. McCaffrey played in just 3 games last year due to various injuries, but had 1300+ on the ground and another 1000+ receiving in 2019. The team also has a good backup plan though, as 4th round pick Chuba Hubbard had a 2000 yard rushing season with 21 TD in 2019 at Oklahoma State.
Teddy Bridgewater (3700 yards, 69.1% completion) had the best season of his career playing in Matt Rhule and coordinator Joe Brady's offense last year, and that was without the new coaches getting a preseason due to COVID. The defense was middle of the pack last year – but also young (league leading tackles by rookies). They'll be more experienced in 2021.
Week 1 Jets at Panthers Pick
This Carolina offense is going to be too much, even for the bright defensive mind of Saleh. Darnold turnovers will be the only way the Jets keep this close and Wilson just doesn't have the weapons on Sunday.
Panthers 34 – Jets 16
Free Pick: Panthers -3.5