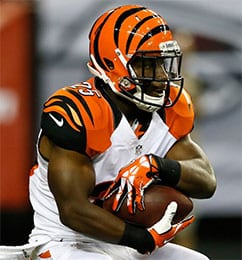 Overview
The Cincinnati Bengals are in Buffalo Sunday for their week 6 matchup with the Bills. The last time these two teams met was in 2013 when the Bengals won 27-24 in overtime and the Bengals also won the meeting before that with a 23-20 win. Both were close games but they were 2 and 4 years ago so I don't think its super relevant to this weeks game.
Head to Head Trends
Over is 6-0 in the last 6 meetings.
Bengals are 1-5 ATS in their last 6 meetings.
Buffalo Bills (+3)
The Buffalo Bills are 3rd in the AFC East with a 3-2 record 1 win back of the Patriots but the Patriots have one less game played then the Bills. Even though the Bills are over .500 this season has been kind of disappointing they have only beaten the Titans, Dolphins, and Colts in week 1 when they were absolutely horrible.
The Bills have a solid defense allowing 356 yards and 21 points per game but that's not all that great when your offense sucks. The Bills are averaging 24.8 points per game on offense which is good but they are averaging just 328 yards per game so I see that point total coming down like in the last 2 games where they scored just 10 and 14 points.
Buffalo Bills Trends
Bills are 8-3 ATS in their last 11 games overall.
Bills are 7-20-1 ATS in their last 28 games following a S.U. win.
Cincinnati Bengals (-3)
The Cincinnati Bengals are 1st in the AFC North with a 5-0 record. I think the Bengals going undefeated through the first 5 games is one of the bigger surprises in the NFL this season. I think most people figured the Bengals would be a good team but not 5-0 and they have beaten some pretty good teams in the Chargers, Ravens, Chiefs, Raiders, and Seahawks.
The Bengals have one of the better offenses in the league so far this season averaging 421 yards and 29.6 points per game. They have also been really solid on defense allowing just 371 yards and 20.2 points per game.
Cincinnati Bengals Trends
Bengals are 4-0-1 ATS in their last 5 games overall.
Bengals are 4-0 ATS in their last 4 vs. AFC.
Conclusion
I'm going with the Cincinnati Bengals over the Bills in this one. I think the Bengals -3 is a little low especially considering Bills quarterback Tyrod Taylor is listed as doubtful and not expected to play so I think the line should be closer to -6 or -7.
Free Pick: Cincinnati Bengals -3