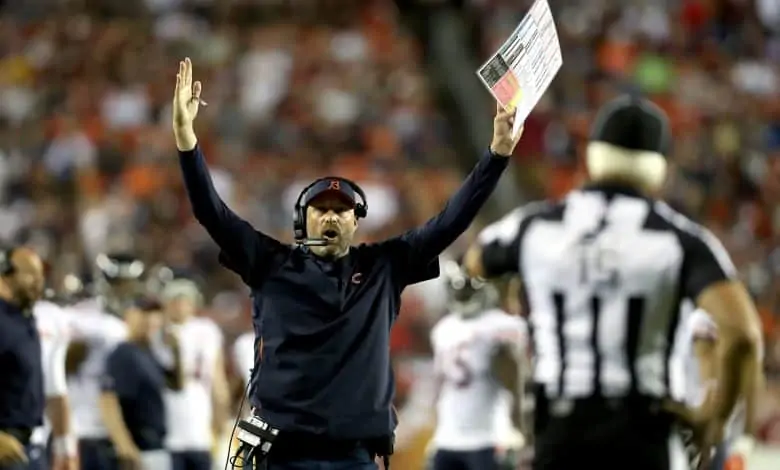 The week 15 Vikings at Bears betting matchup is headlined by Chicago being extremely shorthanded due to health and safety protocols. The Bears are not only missing some key players for this meeting, but all three of their coordinators are likely going to miss this contest at Soldier Field due to receiving positive COVID tests last week.
Minnesota is in a great spot against the shorthanded Bears, trying to build on a 36-28 win over Pittsburgh last week as -3.5 favorites. The Vikings will meet Chicago twice over the last four games of the season, which bodes well as Minnesota is in a dogfight for the second wild card spot in the NFC, a game back of the Saints heading into Monday night.
Vikings Nearly a TD Favorite
The week 15 Vikings at Bears betting contest opened with Minnesota a -3.5 road favorite, but has quickly been bet up to MIN -6.5. Some of that has to do with Minnesota looking pretty solid in a 36-28 home win over Pittsburgh last week, while at the same time Chicago was outscored 24-3 in the second half in their loss to Green Bay last Sunday night.
Minnesota also might be the best 6-7 team perhaps in the history of the NFL. Astonishingly all seven of the Vikings losses have come by one score this year, with five of them coming by 4 points or less. It's kind of a shame that coach Mike Zimmer is fighting for his job right now, but at the same time a good coach often leads his team to wins in those close games. Five of those defeats have also come on the road (2-5).
We know what the Vikings can do, we just don't know what they will do. Even giving -6.5 on the road to a divisional opponent looks like a steal considering the Vikings have a lot of extra time off with the Monday game coming off last Thursday's win over the Steelers.
Banged Up Bears
The end is nigh for Chicago, not just this miserable regular season but also the likely end of the Matt Nagy's tenure as coach and possibly Ryan Pace's term as general manager. The Bears just can't seem to get out of their own way, and that was very evident in last Sunday night's game where Chicago held a 27-21 lead over the hated Packers only to proceed to run the ball one time in the 2nd half en route to a 45-30 loss.
Much like the Vikings, the Bears have been the victims of some close losses in their 4-9 campaign. They had some very questionable calls in a 29-27 loss at Pittsburgh in week 9 and got beat in the last second in a 16-13 loss to Baltimore. Overall this team is still pretty bad though.
All three coordinators could be out for Chicago on Monday night, but they do have experienced back-ups that may have something to prove. John DeFilippo (former Minnesota and Jacksonville OC) will call the plays for rookie QB Justin Fields while Mike Pettine will run the defense, seeking some redemption after being fired by Green Bay as DC in the offseason.
Free Week 15 Vikings at Bears Betting Pick
Chicago has been hit pretty hard by COVID protocols, and they may be looking for the Vikings to have mercy on them on Monday night. The Bears best CB Jaylon Johnson is out (hello Justin Jefferson) while at the same time their starting tackles could be Teven Jenkins in his 2nd ever NFL game on one side and 3rd and 4th stringers on the other.
When you can't stop anybody but also can't produce you're going to have a bad time.
Vikings 38 – Bears 17
Free Pick: Vikings -6.5