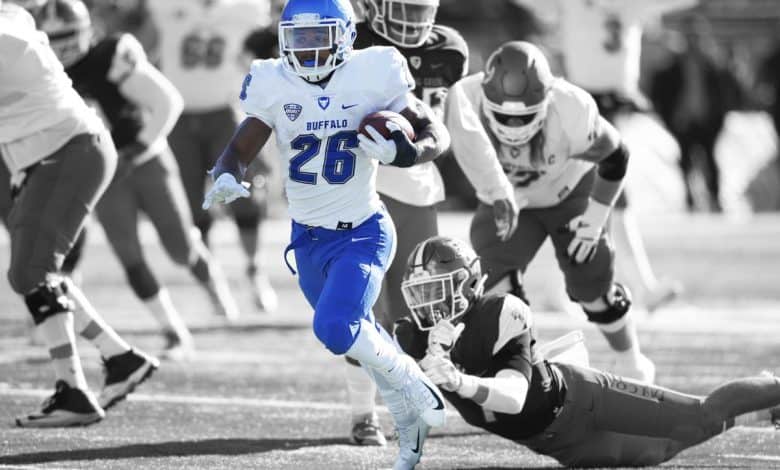 The Miami Ohio at Buffalo pick is a matchup of two teams that have started off 1-0 in the shortened 2020 MAC campaign. Buffalo roared out of the gates with a dominant 49-20 win over Northern Illinois last week, although that was expected as -14.5 road favorites. Miami was able to get a hard fought 38-31 win over Ball State as +1 point home underdogs.
Somewhat surprisingly, Buffalo is a -9.5 favorite for Tuesday night's tilt (8PM ET, ESPN). Miami has won 3 of the last 4 meetings between the two, including 34-20 at home last year as +2.5 underdogs. The RedHawks are ravaged by injuries however, will that lead Buffalo to a big win at home?
Miami Very Banged Up on Offense
Miami was 6-2 in conference play last season, which was good enough for 1st in the MAC East. It's somewhat surprising that the RedHawks put up that good of a record considering they were the 2nd worst team in the conference in terms of total offense. Miami Ohio was 3rd worst in the passing game and 3rd worst in rush yards/game.
While they weren't that great last season, Miami's offense was at least supposed to have experience. Brett Gabbert threw for 2,411 yards last season, and the RedHawks were to return their top two rushers (Jaylon Bester, Tyre Shelton). Bester and Shelton missed last week and could be done for the year, while Gabbert suffered a head injury vs. Ball State and is likely out Tuesday night.
The good news for the RedHawks in the Miami Ohio at Buffalo pick is that the shorthanded offense was still able to pull out a 38-31 win last week. Backup QB AJ Mayer was 16/24 with 3 TDs, and led the game winning drive that culminated with a Zack Kahn TD with 0:10 left in the 4th. Miami Ohio is up against a Buffalo defense that allowed 30 points to Northern Illinois, also one of the worst offenses in the MAC.
Bulls Defense Sparkling
It was a mixed showing for the Buffalo defense last week, giving up 30 points to Northern Illinois, but also scoring on three different returns. The Huskies had 156 yards on the ground and 241 through the air, but also held a 38 minute to 22 minute time of possession advantage. The Bulls offense wasn't on the field much thanks to a 46 yard fumble recovery, 42 yard fumble recovery, and 65 yard INT return for TDs.
The Bulls offense is likely roaring to get out of the gates Tuesday night. Even though Buffalo had the ball sparingly, RB Jaret Patterson had 137 yards and 2 TD on just 20 carries and QB Kyle Vantrease was an efficient 12/18 for 179 with 1/1.
Patterson ran for 1,799 yards and 19 TD last season as the Bulls put together the top rushing game in the MAC (250.5 yards/game). Miami had the 3rd best rush defense in the conference a year ago, but allowed 169 yards on the ground to Ball State and another 309 through the air.
Free Miami Ohio at Buffalo Pick
Miami University is pretty banged up on the offensive side of the ball, but they showed good rhythm with their backup QB last week. Buffalo had the #1 defense in the MAC last season, but gave up chunks of yardage against NIU last week despite scoring 3 return TDs. Patterson went for 180+ in the 34-20 Miami Ohio win last season, and all of this should lead to a high scoring contest.
Buffalo 34 – Miami Ohio 27
Free Pick: Over 55.5