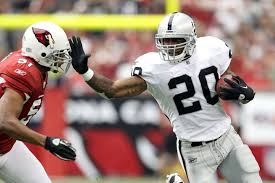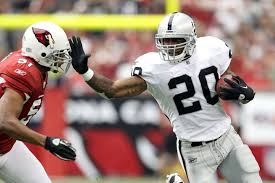 At 4:25 p.m. ET, our NFL free pick Carolina plays Oakland kicks off. Although the Carolina Panthers (4-6) have struggled in the NFC South and are in last place, they still have a shot at the division title. The Atlanta Falcons lead the South with a 6-4 record. The Oakland Raiders (8-2) are in a very different position. They are alone in first place in the AFC West with Denver and Kansas City at 7-3.
The Carolina Panthers are 3-2 over their last five games. That includes a loss to the Saints 41-38 on October 16 and a 23-20 win against that same team last week. Between those two games, the Panthers beat Arizona 30-20 and Los Angeles 13-10. They lost to Kansas City 20-17 on Nov. 13. In most of these games, the Panthers have kept it close.
The Oakland Raiders last lost on Oct 16 to the Chiefs 26-10. Their string of four wins includes Jacksonville 33-16, Tampa Bay 30-24 (OT), and Denver 30-20. On Monday Night Football, they met the Houston Texans in Mexico City, beating them 27-20.
Carolina Offense vs. Raiders Defense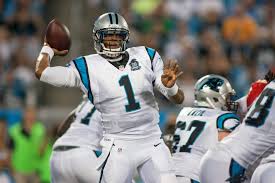 Carolina has been averaging 24.4 PPG. They've been passing for 263.9 YPG and rushing for 107.5. QB Can Newton (56.5 COMP%, 11 TDs, 7 INTs, 25 Sacks) is always a dual threat. Although less so this season than in last. He's averaging 4.3 YPC and has four rushing touchdowns. RB Jonathan Stewart (110 ATT, 365 YDs, 3.6 AVG, 5 TDs) is the team's leading rusher. Newton's top pass catchers are TE Greg Olsen (54 REC, 745 YDs, 13.8 AVG, 3 TDs), WR Kelvin Benjamin (46 REC, 683 YDs, 14.8 AVG, 4 TDs), and WR Devin Funchess (16 REC, 266 YDs, 16.6 AVG, 3 TDs).
Although Oakland brings little pressure on quarterbacks with their 15 sacks, they do offer good pass coverage. They've had nine interceptions and 50 PD. Plus, the Raiders have forced 14 fumbles and recovered eight of them. LB Bruce Irwin (3 Sacks, 3 TFL, 4 FF) is a top defensive performer. Safety Reggie Nelson (3 INT, 9 PD) and CB David Amerson (2 INTs, 14 PD) are both touch defenders in the secondary. Amerson os questionable for the game.
Oakland Offense vs. Panthers Defense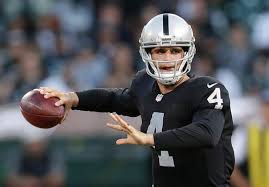 QB Derek Carr (66.2 COMP%, 20 TDs, 4 INTs, 11 Sacks) is have a great season. His three primary pass catchers are WRs Amari Crabtree (62 REC, 900 YDs, 11.5 AVG, 3 TDs), Michael Cooper (52 REC, 601 YDs, 11.6 AVG, 6 TDs) and Seth Roberts (26 REC, 283 YDs, 10.9 AVG, 4 TDs). Each offers solid skills, speed, and end zone instincts. RB Latavius Murray (101 ATT, 426 YDs, 4.2 AVG, 8 TDs), the primary ground gainer, is questionable for the game. DeAndre Washington (63 ATT, 302 YDs, 4.8 AVG, 0 TDs) is a quality second back.
The Carolina red zone defense is second in the league overall at 43.75% and tops over the last three games at 30.00%. The Panthers have been allowing opponents 24.6 PPG. They've been giving up 290.1 YPG in passing. The Panthers still have a formidable defense. Their stats include 30 sacks, 33 TFL, 10 INTs, and 42 PD. In addition, they have 11 FF. But there are problems. The first being that their top guy for sacks, Mario Addison (6.5) is out. Also, LB Luke Kuechly (102 TCKLs, 2.0 Sacks, 7 TFL, 1 INT, 6 PD, 1 FF), the Panthers' leading tackler, is out. LB Thomas Davis (64 TCKLs, 2 Sacks, 2 TFL, 2 INTs, 3 PD, 1 FF) and safety Kurt Coleman (56 TCKLs, 2 INT, 2 PD, 1 FF) will play. Both are essential to this team's success.
NFL Free Pick Carolina Plays Oakland
The Raiders are recovering from their trip to Mexico City where they beat the Texans last week. They may be dragging a bit from the trip, but they are healthy. The Panthers come into this game banged up and missing some key personnel on defense.
In our NFL free pick Carolina plays Oakland and we see Panther injuries as being a major problem. Take the Raiders at -3.0. Kickoff is at 4:25 p.m. ET.
NFL Free Pick Carolina Plays Oakland: Oakland at -3.0