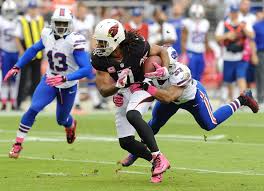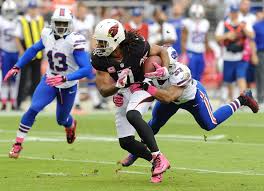 Our initial week four Sunday NFL free pick has the Arizona Cardinals visiting Buffalo. Our NFL Arizona/Buffalo free pick considers two teams that have had disappointing starts. The Cardinals are 1-1 in this young NFL season, while the Bills are 0-2. The game, which will be played in Buffalo at 1 p.m. ET, will see the struggling Bills try to finally notch their first win of the 2016 season. The Cardinals come to Buffalo as 3.5-point favorites and hoping to build on their first win which was last week against Tampa Bay.
Arizona Offense vs. Bills D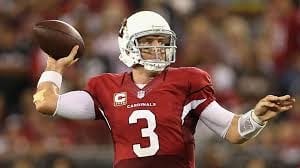 The Arizona offense features Carson Palmer (61.2 COMP%, 5 TDs, 0 INT, 4 Sacks) at quarterback. Palmer is an efficient and effective passer who gets to throw to one of the best pass catchers in the NFL, Larry Fitzgerald (13 REC, 12.2 AVG, 3 TDs.) However, Fitzgerald is questionable for tomorrow's game due to a knee injury. Another solid target is versatile running back David Johnson. Johnson has made seven catches for 141 yards and is averaging 20.1 YPC. On the ground, he's run for 138 yards, averaging 4.8 YPA while scoring one TD. Other able receivers include Jaron Brown and Michael Floyd.
If the Buffalo defense is going to be successful, they will have to stop the forward progress of Arizona. That sounds like a simple idea but the Bills are really having a tough time prohibiting the rush, and even a more difficult time against the pass. Bad news in the pass defense area, as their primary corner, Ronald Darby, is listed as questionable with a hamstring. Of the team's seven passes defended he has five such efforts. At this point, the Bills have not intercepted a pass.
Buffalo Offense vs. Cardinals Defense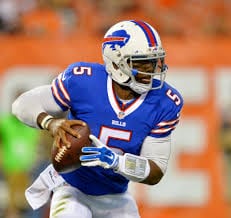 Despite the fact that the Buffalo Bills have played fairly decent football they cannot quite seem to do enough to win a game. They lost their first game to the Ravens 13-7 and then their home opener to the Jets 37-31. QB Tyrod Taylor (63.5 COMP%, 3 TDs, 1 INT, 2 Sacks) has been efficient but, perhaps, not airing it out enough. RB LeSean McCoy (117 YDs, 3.8 AVG, 0 TDs) could also be more effective. The Bills offense has been okay but not outstanding. Their running game has been especially anemic.
The Arizona defense is solid. They have made five sacks and eight tackles for a loss. In addition, they've forced two fumbles, recovered three total, defended eight passes, and grabbed four interceptions. Top performers include DB Marcus Cooper (3 PD, 2 INT, 1 TD) and LB Chandler Jones (2 Sacks). LB Marcus Golden (2 Sacks, 1 FF) is also key to the Cardinal D.
Our NFL Arizona/Buffalo Free Pick
Here's our NFL Arizona/Buffalo free pick. Although Fitzgerald may not play or not be as effective if he does, we still think that the Cardinals will beat the spread. Take Arizona at -3.5. We think they'll win by seven to 10 tomorrow.
Our NFL Arizona/Buffalo Free Pick: Cardinals at -3.5